Blackmer Introduces NPH4F Sliding Vane Pumps
Blackmer is pleased to announce the launch of its NPH4F Sliding Vane Pump. The NPH4F is a positive-displacement sliding vane pump specifically designed to offer maximum versatility in fluid processing and transfer applications for a wide range of clean, non-corrosive fluids.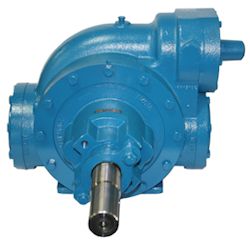 NPH4F Sliding Vane Pump (Image: Blackmer)
The internal sleeve bearing pumps come standard with shaft packing and feature 180° ports, a distinction from the 90° ports of its NP4F predecessor.
Like the NP4F, the NPH4F features ductile iron construction with an internal relief valve that protects against excessive pressures. This ensures performance and reliability even under the most severe service conditions. Additional features and benefits include an optional cartridge mechanical seal, lip seal or triple-lip cartridge seal over the standard shaft packing; 4-inch weld, 4-inch ANSI 150# RF compatible or 4-inch NPT flanges. Options for jacketed heads are also available.
NPH4F pumps are available with differential pressures up to 200 psi (13.8 bar) and maximum pump speeds of 500 rpm.