Blackmer Introduces High-Speed TXH3 Pump
14.04.2009
Blackmer, a global leader in pump and compressor technologies, announces the introduction of the TXH3 high-speed truck-mounted pump. The TXH3 truck-mounted petroleum pump is equipped with a dual-ended shaft and 3" horizontal ports.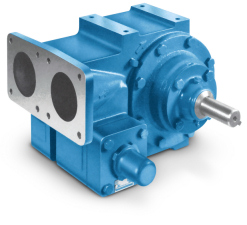 Originally introduced in Europe, the TXH3 is now available in the North American petroleum transport market.
The TXH3 pump has 3" parallel ports, however the pump internals use the same parts as the Blackmer model TXD2.5A pump. Following are some pump characteristics:
Flow rate up to 240 GPM (908 LPM)
Maximum rated speed – 1,200 RPM
Differential Pressure to 125 PSI (8.6 bar)
The pump is built standard with FKM O-rings and elastomers, which allow the pump to be used with all petroleum products, most solvents and all biofuels, including ethanol blends such as E-85 and biodiesel blends. The FKM compound used by Blackmer is approved for, and compatible with, all these fluids. The pump also uses SAE capscrews and bolts. For applications that require easier hose and nozzle handling, an optional Piston Air Valve is offered with standard FKM elastomers.
The TXH3 pump expands Blackmer's line of high-speed pumps for truck applications that require faster PTO speeds. Installation is made easy by the following features:
Parallel ports for easy piping installation to one side of the pump and truck
Mounting feet located on the top and bottom of the pump
Dual-ended shaft to easily match PTO rotation
Pump internals (rotor & shaft, vanes, seals, bearings, heads) are the same parts as the Blackmer model TXD2.5 pump
About Blackmer
Blackmer is the leading global provider of innovative and high-quality rotary vane pump and reciprocating compressor technologies for the transfer of liquids and gasses. For more than a century, the Blackmer name has stood for unparalleled product performance, superior services and support, well-timed innovation and a commitment to total customer satisfaction. Supported by a worldwide network of distributors and original equipment manufacturers, Blackmer pumps and compressors are used in a multitude of applications in the Process, Energy, Transport and Military-Marine markets. Blackmer—headquartered in Grand Rapids, Michigan, USA—is a member of Dover Corporation's Pump Solutions Group (PSG).