Blackmer GX Series Pumps for Chemical Processing
Blackmer is pleased to announce that its GX Series Sliding Vane Pumps have been designed with the versatility to handle a wide variety of non-corrosive solvents and industrial liquids that are used in the chemical-processing industry.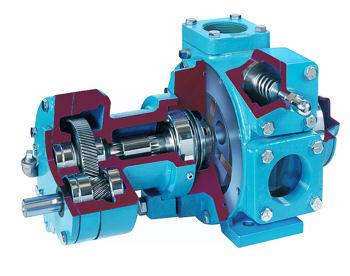 Blackmer
They are also ideal for a number of chemical-processing operations, including in-line blending, mixing, packaging and loading/unloading of trucks, railcars and barges.
All GX Series pumps — which are available in four different models with flow rates ranging from 40 and 528 gpm (150 and 1,998 lpm) — are equipped with integral head-mounted gear-reduction drives that feature oil-lubricated, hardened helical gears. The gear shafts are supported at both ends by ball bearings for smooth operation and long life. A splined reducer, which can be rotated on the pump head to accommodate a variety of motor sizes, simplifies pump and reducer alignment.
The cast iron GX pumps are ideally suited for handling numerous chemicals, thanks to their self-priming, dry-run and high suction-lift capabilities, which make them ideal for clearing lines and removing product from storage tanks, vessels, railcars and transport tankers. A symmetrical bearing support assures even loading and wear for long life, while an adjustable relief valve protects the pump against excessive pressures. The pump's also benefit from Blackmer's revolutionary sliding-vane design that self-adjusts for wear to maintain flow rates and eases maintenance.