Blackmer Creates Diesel Exhaust Fluid (DEF) Web Page
21.12.2011
Throughout its 100-plus years of innovation, Blackmer has made a commitment to identifying emerging markets and then developing equipment that has been designed to maximize the efforts of its end-user partners in those markets.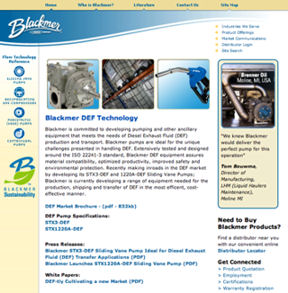 Diesel Exhaust Fluid (DEF) Web Page (Image: Blackmer)
One of the most recent examples of this is Diesel Exhaust Fluid (DEF), the use of which came to prominence in the United States in 2010 when tighter Environmental Protection Agency (EPA) standards regarding the amount of nitrogen oxide (NOx) and particulates that diesel vehicles could legally emit into the atmosphere went into effect.
At that time, Blackmer committed to developing pumping and ancillary equipment that meets the needs of DEF production, handling and transport. As part of that effort, Blackmer has created a DEF Web page that introduces the visitor to Blackmer's DEF-compatible equipment, as well as the marketing efforts it has undertaken as a way to introduce this equipment to the DEF marketplace.
Visitors to Blackmer's new DEF Web page will have access to a DEF Market Brochure, which explains the scope and nature of the United States DEF market, along with an introduction to the STX-DEF Sliding Vane Pumps that have been developed; press releases that have been created to coincide with the launch of the STX-DEF products; a white paper that helps define Blackmer's position in the DEF market; a success story that focuses on how a Blackmer channel partner has optimized its DEF-handling operations with the help of Blackmer equipment; articles that offer an insight into the future of DEF in the U.S.; and links to DEF product solutions from some of Blackmer's Dover Corporation sister companies.