Blackmer Adds 3-Inch Piston Air Valve Option For Its TX/TXD Sliding Vane Pump Lines
15.07.2009
Blackmer, has announced that the Piston Air Valve used on its TX/TXD Series of sliding vane pumps is now available in a 3-inch configuration. The Company also stated that effective July 1, 2009, the Piston Air Valve became the standard air-valve option for its 3-inch TX/TXD pumps, in place of the Diaphragm Air Valve.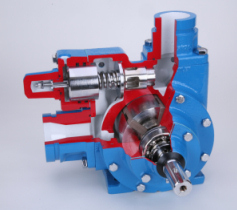 Blackmer
Piston Air Valves, which were previously only available for the 2.5-inch pumps, are preferred over the diaphragm style air valves. The Piston Air Valves provide much longer service life, which means less leakage from the pump. This is a critical consideration for environmental reasons, where less product leakage means less chance of an environmental spill.
The 3-inch Piston Air Valve design incorporates the same features as the 2.5-inch version, including a sliding piston; FKM elastomers that are UL-listed for compatibility with ethanol, biodiesel and other biofuel blends; quad-ring liquid seal; U-Cup O-ring air seal; retaining ring on adjusting rod; and adjusting rod with shoulder. Since the Piston Air Valve does not make use of diaphragms, which can fail, there is a decrease in downtime and maintenance costs. The new 3-inch Piston Air Valve is completely interchangeable with previous diaphragm air valves. A Piston Air Valve kit may be installed on any Blackmer TXD3E or TXD1230A model pumps.
Blackmer's TX/TXD Series of sliding vane pumps have been called the workhorse of the company's mobile/transport offering, with the capability to handle clean, lubricating liquids and petroleum products, such as fuel oil, diesel, kerosene, gasoline, avgas, jet fuel, light oils and biofuels. This pump is used most often in truck applications and has many different options that make it extremely versatile to handle the wide array of fluids encountered by fleet tank trucks. TX/TXD Series pumps are available with port sizes from 1.5 to 4 inches, flow rates from 10 to 500 gpm and relief valve pressures to 125 psi.
About Blackmer
Blackmer is the leading global provider of innovative and high-quality rotary vane pump and reciprocating compressor technologies for the transfer of liquids and gasses. For more than a century, the Blackmer name has stood for unparalleled product performance, superior services and support, well-timed innovation and a commitment to total customer satisfaction. Supported by a worldwide network of distributors and original equipment manufacturers, Blackmer pumps and compressors are used in a multitude of applications in the Process, Energy, Transport and Military-Marine markets. Blackmer—headquartered in Grand Rapids, Michigan, USA—is a member of Dover Corporation's Pump Solutions Group (PSG).