Bitzer Offers Digital Support for Using Varipack Frequency Inverters
Bitzer has published a video explaining how to design, configure and commission its Varipack frequency inverters. The video can be found on the YouTube video platform and offers valuable assistance when it comes to using the external frequency inverters.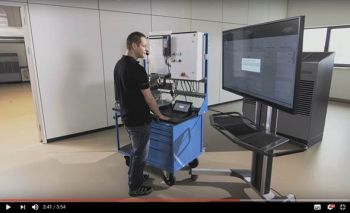 The new video explains the simple and fast way to use Bitzer Varipack frequency inverters (Image: Bitzer Kühlmaschinenbau GmbH)
The video shows Bitzer employees designing a Varipack frequency inverter for the requirements of a refrigeration system with Bitzer compressor. There are two versions to choose from, with the required steps explained in English or German. Users also require the Bitzer software, the BEST software (Bitzer Electronics Service Tool) and a Best interface converter or an Ethernet cable. The two software tools are available free of charge on the BITZER website. Once the Varipack has been installed and wired as recommended, it can be commissioned and configured.
Easy to use and very efficient
In combination with a Bitzer reciprocating compressor, the intelligent Varipack frequency inverters belong to the compressor specialist's IQ product range and offer an intuitive commissioning process that doesn't require any specific knowledge about frequency inverters. Its advantage is that it adjusts to ideally suit the system's current cooling demand, reducing both energy consumption and running costs. The precise coordination of compressor and frequency inverter saves additional energy and thus increases compressor efficiency in full and part-load. The external Varipack frequency inverters are also designed for modern motor concepts, including the permanent-magnet motors of the Bitzer Ecoline+ reciprocating compressors and other motors modified specifically for frequency inverters.
The Varipack series is suitable for refrigeration systems, air conditioning systems and heat pumps, and can be integrated into both systems with single compressors and compound systems. The Bitzer software enables application-specific selection of the frequency inverter, while the BEST software promotes easy operation and monitoring.