Biral Presents PumpSelector 5
Besides its new and intuitive operating concept, the software also stands out for its new functions, including QuickSearch and a pump comparison facility, as well as its improved project management.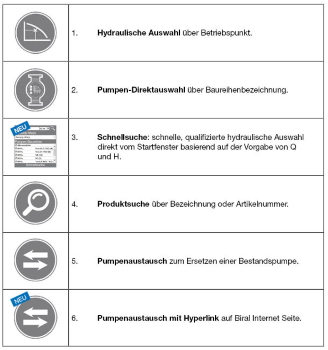 Biral AG
There is a choice between the hydraulic selection, the direct pump selection and the search based on item number or name. Biral PumpSelector 5 features the new QuickSearch function, which enables the user to find the right pump even more quickly directly from the home page.
With the integration of pump selection and configuration, this simplified selection process is now even faster. A qualified operating point-based pump selection can be carried out in just a few steps, without the inconvenience of multiple dialog boxes.
What's unique to the Biral PumpSelector 5 is the combination of PumpSelector and PumpConfigurator. This provides an overview of all the different pumps that match the operating data at all times and thus leads to the destination in just a few steps. The influence of the selected components on the pump characteristics is visualized without having to switch between different screens.
It is also possible to independently select configurable products according to total life cycle costs.
Convincing qualities:
Innovative, intuitive operating concept
QuickSearch for even faster selection based on the operating point
Pump comparison
Flexible user rights system
Improved project management