Better Rental Service from ITT Flygt
ITT Flygt has improved its services to the rental market and expanded its range of submersible pumps. Thousands of units are available throughout Europe ranging in size from 0.75kW – 180kW.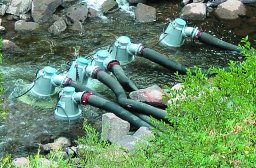 As more and more companies turn to rental equipment to meet their submersible pumping needs,
ITT Flygt, the world's leading submersible pump manufacturer, has increased its rental selection and improved its service package. Offering direct rent and re-rent possibilities for pumps and auxiliary equipment used in construction, mining, and wastewater handling markets.
To better serve pump users and meet the ever growing demands of the dewatering and wastewater pumping industries as well as equipment rental businesses, the company has a European fleet of approximately 4000 dewatering and wastewater pumps. They range in size from 0.75 kW – 180 kW. With these models, including explosion proof ones, customers can now have large pumps delivered to any destination in Europe and have it up and running within 48 – 72 hours.
In order to simplify the rental process, all pumps come in ready-to-start packages, including all necessary accessories. A special website (www.flygt.com/rental/europe), highlighting the locations around Europe at which a Flygt pump can be rented, has also been set up.
About ITT Flygt
ITT Flygt is the world's leading supplier of submersible pump and mixer solutions. Our products are used in municipal wastewater treatment, industrial effluent handling, for general dewatering duties at construction sites and mines, and for process liquid handling, among others. We have 40 wholly or partly owned sales companies and are represented in more than 130 countries. The company has approximately 4000 employees of which 1500 are based in Sweden. ITT Flygt had a 2002 turnover of USD 632 Million. ITT Flygt is a subsidiary of ITT Industries, Inc., USA.
Our quality system is approved according to the ISO 9001 standard and our main factory in Sweden is certified according to the ISO 14001 international environmental standard.
ITT Flygt is proud of being a founder of the international award, the Stockholm Water Prize, as well as national sponsor of the Swedish Stockholm Junior Water Prize.
About ITT Industries
ITT Industries, Inc. supplies advanced technology products and services in key markets including electronic interconnects and switches; defense communication, opto-electronics, information technology, and services; fluid and water management; and other specialty products. Headquartered in White Plains, NY, the company generated $4.99 billion in 2002 sales.