Bell & Gossett Publishes Technovar Bulletin
Bell & Gossett has published an informative new brochure that identifies and explains features and benefits of the company's Technovar® Variable Speed Pump Controller.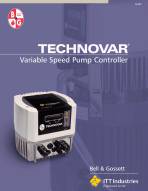 Technovar Bulletin (source Bell & Gossett)
The eight-page, four-color brochure (D-441) provides engineers and contractors with useful information on the product's many functions for use in HVAC, water supply, irrigation, pressure boosting and OEM applications.
The brochure lists details of the Technovar controller's features and benefits such as its variable speed control capability, user-friendly remote interface and electronic control, as well as the numerous advantages for motor and pump protection and multi-pump control. Brief explanations coupled with simplified graphs provide a clear description of all the Technovar controller's user-accessible options, which include: constant pressure control, control to match system curve, constant flow control, and actuator mode. A chart containing cost-saving information resulting from the use of a Technovar pumping system is also included.
Additional detail is provided in the bulletin regarding following a system curve for multi-pump system control. The brochure informs the operator of the basic steps to create a multi-pump system that include pressure set-up, system set-up, and automatic lead/lag. A diagram reflecting system loss compensations as a result of the multi-pump control feature is also included.
The Technovar Pump Controller adjusts power consumption for optimal system performance, which delivers considerable cost savings and lower mechanical load. The initial system cost is reduced by providing a motor-mounted, compact, combination pump controller-variable speed drive which results in lower capital and installation costs, and provides energy savings throughout the lifetime of the equipment.
Bell & Gossett, a unit of ITT Industries, is a leading manufacturer of centrifugal pumps, hydronic specialties, heat exchangers, condensate handling equipment, and packaged systems for variable and constant speed pumping, heat transfer and pressure boosting.