Bell & Gossett Introduces Technologic® 500 Color Bulletin
A new bulletin explaining the operating features of the Technologic® 500 Pump Controller is now available from Bell & Gossett. The bulletin also details the advantages of variable speed over constant speed and provides sample life cycle cost calculations.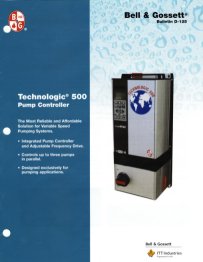 This 8-page color bulletin bulletin (D-125) gives an overview of how the controller provides a reliable and affordable pumping solution with color charts and graphs that compare variable speed and constant speed operating features.
A 2-page spread provides a visual breakdown of the various components and capabilities of the Technologic 500, making it easier for HVACR and plumbing professionals to understand the operations of the controller.
The bulletin also lists installation details, common mounting arrangements, and optional automatic bypass configurations, including a brief sequence of operation for each type. Also highlighted in the bulletin are comprehensive descriptions of the technical specifications for the Technologic Pump Controller assembly.
Bell & Gossett, a unit of ITT Industries, is a leading manufacturer of centrifugal pumps, circulators, hydronic specialties, heat exchangers, and packaged systems for variable and constant speed pumping, heat transfer and pressure boosting.