Award-Winning Pfeiffer Vacuum Catalog
Pfeiffer Vacuum takes 1st prize in the 2009 "INKA Competition" for the best product catalog in the Print category. The catalog's "perfect organization" and "impressive appendix with selection aids, units of measure and formulas, symbols and index" received special praise from the jury.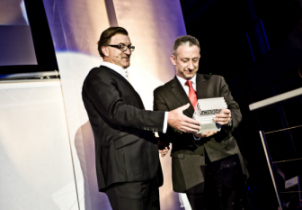 Pfeiffer Vacuum
Overall, some 100 catalogs had been entered in the competition. The "INKAs 2009" for the best print and online catalogs were awarded on March 17, 2010, in Lindau, Germany.
Pfeiffer Vacuum Management Board member Dr. Matthias Wiemer: "We offer complete vacuum solutions. This also includes a comprehensive and professional portrayal of our products in the catalog. We are proud of having won this award, and are pleased about the jury's conclusion that the Pfeiffer Vacuum Catalog is setting new standards."
This annual competition rewards companies from Germany, Austria and Switzerland for outstanding technical catalogs in industry and commerce. The competition is conducted by TANNER AG, a service provider whose offerings also include the production of product catalogs.
A multi-stage process was employed to assess the catalogs that were entered in the competition. They were first analyzed on the basis of more than 150 individual criteria by a team of experts from TANNER AG. Points were given in the areas of product search, product selection, ordering and design. The Lindau-based Eschbaumer GmbH & Co. printing company was responsible for judging print quality.
These assessment criteria are based upon a comprehensive scoring system, which was used to determine the shortlists for those entrants who were nominated for the grand prize. In the next step, those catalogs that made it to this shortlist were submitted to an independent, eleven-person jury for assessment and discussion. Finally, this jury, made up of marketing experts, representatives from the research and teaching communities as well as the printing industry, then determined the grand prize winner and the other "INKA 2009" winners.