Available Online At All Times: Information on Biral Products With eDocuments
Whether in the office or on the construction site: planners and installers can now access product-related information from the Biral Group online at any time. Not only can published content be read and downloaded online, but pages from any documents can be combined with one another and sent by mail or downloaded as a personalised PDF file. With this offer, Biral is responding to the greatly increased demand for information to be available online.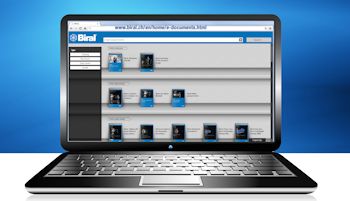 With the new "eDocuments" online portal, the Biral Group is significantly extending its range of information (Image: Biral)
"Web first": the Internet has moved beyond the classic media realm to become the preferred information channel – for providers as well as users. According to a representative survey among 2000 planners and installers in the German-speaking countries, two-thirds of respondents prefer to use electronic rather than printed information, and a clear majority of 87% prefer the current PDF format.
The Swiss pump manufacturer Biral is responding to these altered requirements with the completely reworked "eDocuments" information platform. The ePaper portal offers Biral customers the advantage of quickly finding the required content via targeted (full text) search, and the search results are sorted into lists according to type of content (for example, instructions or brochures).
That is not all: not only can all documents be searched, browsed, read and downloaded; with the new "paperclip" function you can extract content by page and combine it with pages from other documents to form a personalised PDF brochure. A cover sheet, customer or project data can be added to the newly collated documents, and they can either be downloaded or sent directly via mail from the server. In short, it is therefore possible to put together order-related or project-related documentation, which is always completely up to date in terms of data.
With the new "eDocuments" and the innovative functions for organising all relevant information for your own use, Biral offers planners and installers straightforward and up-to-date access to catalogues, brochures, data sheets and instructions.