Automotive Vacuum Pumps Easily Tailored to Customers Needs
ASF Thomas has developed a range of high performance, yet highly cost effective vacuum pumps and compressors tailored to automotive applications such as suspension hardening systems, air brakes, air clutches, fuel systems, air seats and air doors. As well as providing superior pressure and flow rate, these vacuum pumps and compressors can be easily customised in OEM volumes to meet individual requirements.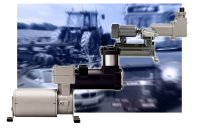 (Source: Rietschle Thomas)
Specifically developed for automotive duties, the four models in the range – the 115., 215, 315 and 317 – run off 12, 24 and 36 V DC supplies. Operation is based around the Wob-L principle pioneered by ASF Thomas, combining high performance with extremely long life in arduous operating environments. Offering reliable operation across a wide temperature range, the vacuum pumps are manufactured from lightweight, die cast aluminium components with stainless steel valves, and are balanced for smooth, low vibration running.
Performance characteristics at 12 V include air flows up to 32 l/min, operating pressures to 150 psi and vacuum down to –746 mbar. Models are available tailored to intermittent duty or continuous operation, and incorporate features such as thermal protection and built-in check valves. Heavy duty motors are available for more demanding applications.
Dust and moisture resistant, the vacuum compressors all feature built-in inlet filters, with two stage filters available for environmentally challenging tasks. For increased reliability, the design makes use of a one-piece connecting rod with Teflon-PTFE piston seal, and the cylinder is hard coated for superior wear resistance. All wetted aluminium parts are treated for corrosion protection, and all other wetted parts are stainless steel. Offering smooth running as standard, options across the range include steel mounting brackets with integral vibration isolators.
All products are manufactured to the highest standards and comply with the strictest quality controls, statutory requirements and international standards.