Australian Pump Industries Announce Launch of Fire Pump for the Mining Industry
Australian Pump Industries announce the launch of a new twin impeller, high pressure portable fire pump for the mining industry. Based on the Aussie's Mr T portable firefighting pump, the new version has been upgraded to include additional safety features.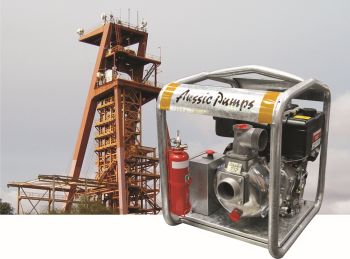 The Aussie Mr T Twin impeller is now available in Aussie Mine Boss configuration offering improved mine safety and pump protection (Image: Aussie Pump)
"Our Aussie Mr T has an established reputation for performance and quality," said Aussie Pump's Chief Engineer, John Hales. "We up spec'd this pump with features to add safety for use in high risk environments like mine sites. For example we've incorporated a centre mounted balanced lifting bar into the frame that make these 100 kilo pumps easy to move on site," he said.
The unique Aussie Pump Mr T in Mine Boss configuration includes not only a super heavy duty, hot dipped gal, steel frame but a galvanised base plate with anti-vibration mounts. That floating base plate provides a sturdy platform for the pump and diesel engine, reducing wear on components.
The Mine Boss configuration also includes battery isolation in a lockable galvanised steel cabinet with emergency stop a standard feature. A top quality fire extinguisher is fitted to the frame to comply with the industry and the company's standards.
The Aussie fire pump produces a maximum head of 90 metres and 450 litres per minute max flow. Power is supplied by a single cylinder Yanmar 10hp air cooled electric start diesel engine.
"We chose Yanmar diesels for this kit because they are regarded as the finest lightweight, portable diesel engine on the market," said Hales. "They reliable, powerful engines that are backed with a 2 year warranty with support from a national Yanmar service centre network," he said.
The Yanmar engine can also be supplied with an optional spark arrestor for gaseous environments.
The pump has been engineered with twin single piece impellers and volutes that are perfectly matched to the engine capacity. This means the engine holds its rpm even under full load conditions.
The pump features a flanged three way outlet for fire system installations. This can be replaced with a 2" or 3" outlet port. The standard 2" flanged suction port is fitted with a robust check valve designed to allow the pump to prime fast, first time, every time. The pumps integrated priming tank, incorporated in the sculpted body, means fast priming through a vertical lift of 7.6 metres.
"Recently this pump was successfully integrated into a specialised trailer mounted fire protection system, supplied into a coal mine," said Hales. "It passed all the site safety and performance checks and the customer was very pleased with our timing commitment and delivery capability," he said.