Aussie Pumps: Fire and Drought – Brutal Bushfire Season
As if regional Australians hasn't had it tough enough with the worst drought in 100 years! They are now gearing for a fire season from hell! The concept of city people "there's nuthin' to burn" couldn't be further from the truth. National parks, woodlands, scrub and what's left of grasslands are tinder dry and ready to go.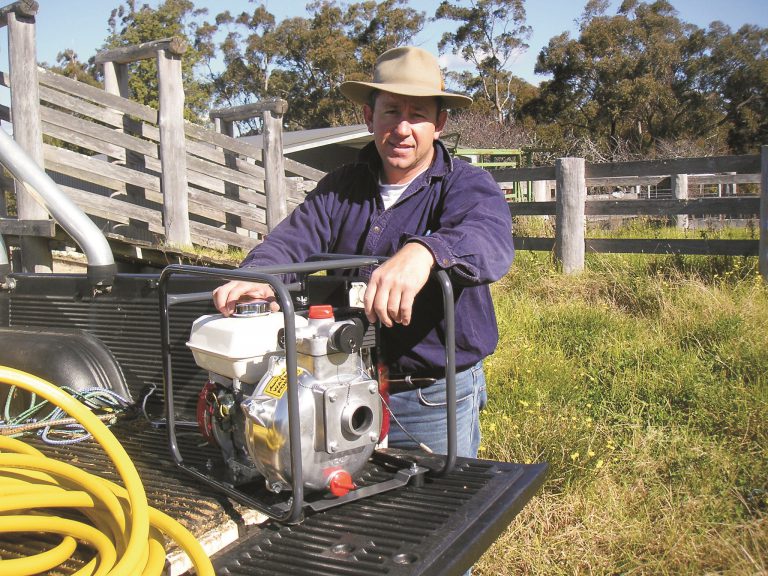 Stuart Marshman has protected his farm with an Aussie Fire Chief for over a decade. (Image source: Aussie Pumps)
Aussie Pumps knows this and are geared to double production of petrol and diesel drive pumps to help farmers and homeowners combat the potential "fire storm"!
The company's flagship product, the Aussie Fire Chief, is regarded as the world's finest lightweight portable fire pump. It is the only pump that comes with a 5 year warranty and is powered by a top quality Honda engine with an international guarantee.
"We chose Honda to drive our pumps because of their reliability, power and torque. They start first time, every time." said Hamish Lorenz, Aussie Pumps Operations Manager. The Fire Chief delivers more water and pressure than other pumps because of its huge 7 1/2" diameter impeller. The impeller runs in a superbly matched and designed volute. That enables the pump to not only prime from a depth of 7.6 vertical lift, but also provides a tremendous combination of pressure and flow designed for fighting fire or transferring water.
The pumps offer a unique bolt on flanged inlet and outlet. That enables them to be modified into different configurations. For example, the standard Fire Chief product comes with a big 2" suction port and a 3 way outlet. It can be modified by changing the outlet to a 2" outlet, reducing friction loss.
The 3 way outlet enables the operation of two 25mm (1") hoses with nozzles or, alternatively offers a 1 1/2" outlet that enables huge amounts of water to be thrown at the fire. "Running a Aussie fire pump with a 1 1/2" hose and good quality fire fighting nozzle impresses," said Lorenz. "We've operated alongside other brands and it astonished RFS volunteers with how the spots that we extinguished stayed out. It's all about how much water at pressure you can apply" he said.
All Aussie Fire Chief pumps come with steel skids and anti-vibration mounts. These prevent the pumps from toppling over during operation. All of the Honda engines come with a unique "Oil Alert" feature that will turn the pump off in the event of it being run with the pump at an extreme angle (toppling over for example).
The company is also predicating a increased demand for Aussie Mr T twin impeller pumps, reflecting a growing need for more capability! Lorenz, who understands what it's like to be in the middle of a bushfire, saved his own property on the outskirts of Sydney in Arcadia by battling fires alongside RFS. "We admire the firies tremendously" he said. "Those men and women, young and old, give up their free time to train and support homeowners. Then they put their lives on the line during bushfires, often for very little thanks." He said.
The company produces a free comprehensive Fire Survival Guide. The guide is a great document that shows how to protect crop, livestock, house or workshops for an impending bushfire. The Survival Guide is a summation of everything Aussie Pumps has learnt about firefighting over the last 25 years. "It's a great starting point for anyone preparing their home or property for a tough bushfire season" said Lorenz.
Further information, including the guide are readily available from Aussie Pump distributors around Australia. Also available from CRT, landmark and elders.