Aussie Exports Test Gear
Australian Pump Industries announced a major contract for supply of 500 bar hydrostatic test gear for the Middle East.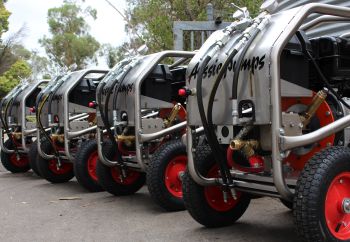 The first shipment of the order "preped" for delivery. Note the red mark front mounted throttle control providing the operator with easy access to gauges, valves and engine speed (Image: Aussie Pumps)
Conceived, designed and built at Australian Pump Industry's 2.5 acre Sydney manufacturing base and headquarters, the big machines were chosen against stiff competition from both United States and European manufacturers.
The base product, called the Raptor 18 D/HPT, the big machines offer the user capability of testing oil or water pipe lines up to 500 bar (7,300 psi). The machines come with double gauge, double valve assemblies that enable the operator to easily read pressure losses in a wide range of applications. These include pipelines as well as important oil industry equipment that includes valves, compressors, pressure tanks and pumps.
The heart of the system is a "Big Berty" Bertolini 500 bar Triplex pump that develops 18 litres per minute flow. The pump has a 316 stainless steel pump head and features stainless steel valves and solid ceramic pistons. A big capacity finned crankcase ensures cool running even in the high ambiants of the Middle East.
The drive is from a 2 cylinder Kohler air cooled diesel engine, driven through a two to one reduction box ensuring a totally dust free drive line. The engine developing 26hp at 3000 rpm, provides loads of power for the 'Berty' pump
The whole machine is encapsulated in a heavy duty stainless steel frame mounted on four big steel wheels with pneumatic tyres. "The machines are highly portable and the frames include an integrated lifting bar that enables units to be easily moved around on construction sites."