AUMA wins major tank farm order
Electric actuator manufacturer AUMA has won the largest order in the company's history, to supply a total of 2,756 explosion-proof electric actuators for the HES Hartel Tank Terminal in the Port of Rotterdam, the Netherlands. AUMA is the sole actuator supplier for this project.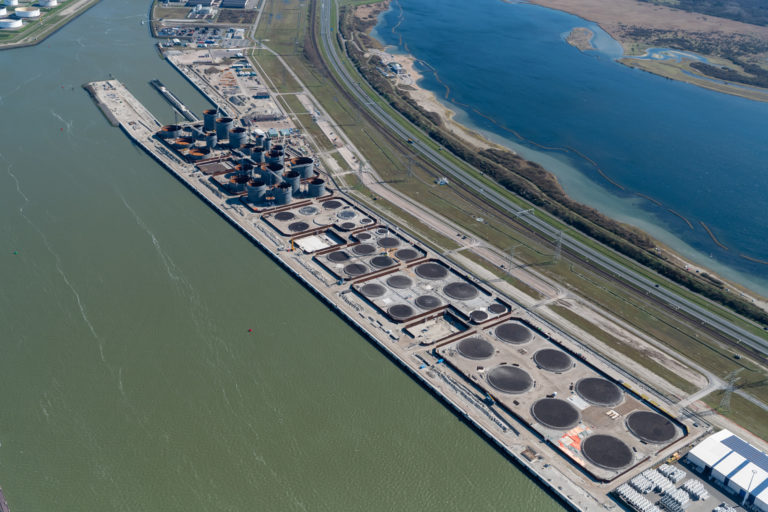 AUMA will supply more than 2,700 electric actuators for the new 1.3 million m3 HES Hartel Tank Terminal, pictured here in March 2020 (Image source: HES – Paul Martens)
The giant contract comprises 2,482 SAEx multi-turn actuators, including 120 SAVEx variable speed actuators; 274 SQEx part-turn actuators – 190 of them equipped with FQMEx fail safe units – and 2,313 GST multi-turn gearboxes. Delivery for the actuators, which all feature intelligent ACExC actuator controls and Profibus DP-V1 communications, is scheduled for the end of 2020.
When operational, HES Hartel Tank Terminal will have storage capacity for 1.3 million cubic meters of clean petroleum products and biofuels in 54 tanks. The 27-hectare site also has moorings for six vessels up to VLCC size and nine barges.
HES International is one of Europe's largest independent terminal operators in dry and liquid bulk products. The company has a long relationship with AUMA, which has previously supplied actuators for HES Botlek Tank Terminal in Rotterdam.
"HES International's experience with AUMA as a reliable supplier, our expertise in valve automation, and the commitment of our professional service team were all crucial in their decision," said Ton van Gennip, account manager Oil & Gas Nederland with AUMA Benelux. "From the very start of the project in 2018, we cooperated closely with the end user and all the companies involved in valve automation to develop the best automation solutions for each application in the tank terminal and its huge manifolds."