AUMA Launches New Part-Turn Gearboxes
A new range of part-turn gearboxes, the GQB series, extends the gearbox portfolio of electric actuator manufacturer AUMA. The GQB gearboxes combine compact design with superior quality and reliability. Engineered and manufactured in Germany, they have been specifically designed to meet the requirements for basic 90° applications with standard industrial valves such as butterfly and ball valves.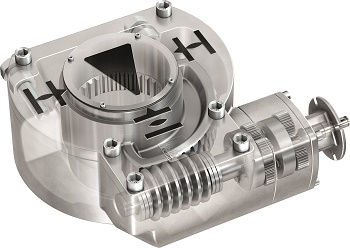 AUMA launches the new GQB compact gearbox type range (Image: AUMA)
"With the GQB the AUMA Group worldwide can offer a high-quality gearbox at an attractive price", Cyrille Decker, Product Manager at AUMA, says.
The new gearboxes excel through their innovative design and their outstanding robustness and manufacturing quality. All components within the power drive, like the worm wheel and worm shaft, are surface hardened to further increase wear resistance. In addition, all housing parts are powder-coated using AUMA's extremely corrosion-resistant two-layer powder coating system.
The housing incorporates a coaxial primary reduction gear as well as integral mounting flanges for the actuator, handwheel and valve. This considerably reduces the number of parts and the amount of material required, without compromising performance. End stops to limit the valve travel are easily accessible next to the output drive shaft. A patent-pending overload protection guarantees safety in case of excessive torque.
The GQB range complements AUMA's proven GS part-turn gearboxes, which will continue to be used for demanding applications with special valves and for special requirements, for example in hydropower plants, weirs or dams.
The new GQB gearboxes are currently available in three sizes – GQB 160.1, GQB 200.1 and GQB 250.1 – covering torques up to 84 000 Nm. Further sizes will follow. The part-turn gearboxes can be used either in combination with an AUMA SA multi-turn actuator or with a handwheel for manual operation. A base and lever unit for damper operation is also available.