Auma Helps Automate Oman's Water Distribution System
Auma has supplied 128 SA multi-turn electric actuators with AC actuator controls and Modbus RTU communications to automate the water distribution system in Oman.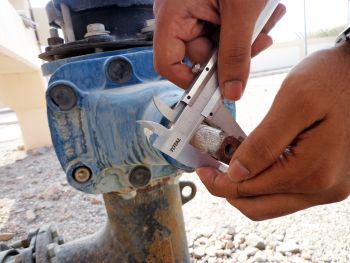 Since many of the 128 valves have non-standard actuator mounting arrangements, careful measurement and custom-made adapters are key factors in the success of the upgrade project (Image: Auma)
The project, known as T63, involves upgrading existing valves from manual operation to motor-operated valves (MOVs). It began in 2015, and the first phase of installation is now in progress. The end customer is Oman's Public Authority for Electricity & Water (PAEW).
Modernizing the Omani water distribution network involves work at 54 locations across the country, which measures some 900 km north to south. Auma's latest generation SA actuators will be used in 9 pumping stations, 20 reservoirs, 28 filling stations for water tank trucks, and a well field.
From the customer's perspective, important features of Auma's actuation solution include powerful diagnostics, time-stamped event reporting, and integration with PAEW's asset management system.
The customer has also greatly appreciated Auma's experience with previous retrofit projects. A key part of the project lies in physically connecting the Auma actuators to a wide range of existing valve types and sizes, supplied by at least nine different manufacturers. Many of these have non-standard dimensions for mounting actuators, so they need customized adapters.
Local Auma staff visited more than 35 different sites to measure the valves and investigate the specific valve and actuator requirements. Auma experts created the drawings needed to manufacture the adapters and assisted local EPC contractor Waleed Associates LLC with the manufacturing process.