Atlas Copco to Launch Efficient VSD Vacuum Pump Range
A new range of efficient vacuum pumps will be unveiled by Atlas Copco for the first time at ComVac 2015. The GHS VSD+ series promises energy savings of around 50% compared with conventional vacuum pumps.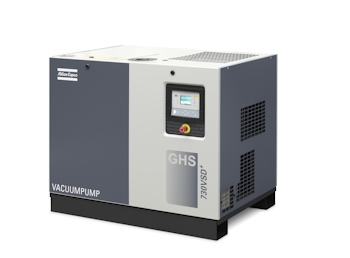 GHS VSD+ vacuum pump (Image: Atlas Copco)
The GHS 350-900 VSD+ range, generating nominal displacement of up to 900m³/h, incorporates state-of-the-art variable speed drive technology, which enables vacuum generation to adapt precisely to the user's requirements as part of a central supply system.
Benchmarked against oil-sealed and dry vane vacuum pumps, the GHS VSD+ pumps offer improved performance and a 50% reduction in noise levels.
Also on show at ComVac will be a prototype of the new GHS 1900 VSD+ vacuum pump, offering nominal displacement of 1900m³/h, which will soon be added to the vacuum range.
Based on the well-known and durable plug-and-play design principles of Atlas Copco compressors, these vacuum pumps have been designed by vacuum engineers to deliver peak performance at operating pressures commonly found in industrial applications. The new GHS-VSD+ vacuum pumps are visually based on Atlas Copco's well-known compressor design, with all of the components cleanly integrated into a single housing.
The efficiency credentials of the range are evidenced by conformance with ISO 50001 and 14001 standards, while environmental impact is reduced as a result of impeccable oil retention at all operating pressures.
Christoph Angenendt, Communication Manager of the Atlas Copco Utility Vacuum Business Unit, said: "The level of efficiency achieved with this new range is a product of innovative design and variable speed control. From a technology and design viewpoint, the new vacuum pumps are based on Atlas Copco compressors, and therefore provide fully wired, complete systems in a single housing. Compared to oil-sealed and dry-valve vacuum pumps, the new range provides noticeably greater performance and these pumps are considerably quieter than comparable machines."
The GHS VSD+ series is the latest addition to Atlas Copco's state-of-the-art range of vacuum solutions for a wide array of industry sectors including cement and paper plants, mining and refineries, food processing and packaging, aviation and space travel, automotive manufacturing and wood processing.
The GVD 0.7-28 series of small two-stage oil-sealed rotary vane pumps delivers excellent ultimate vacuum pressure, high pumping efficiency and superior vapour handling capabilities with quiet operation. These pumps offer a reliable and stable performance that set the industry standard for R&D and scientific pumping applications.
The GVD 40-275 series of two-stage oil sealed rotary vane vacuum pumps are renowned for their high ultimate vacuum, rapid pumping speeds, quiet operation and the ability to handle water vapour. These direct drive rotary vane pumps are inherently compact and vibration free, and with their finger-proof fan and coupling housings they offer good operator protection.
The ZRS 250-4200 mechanical booster pumps, based on the simple rotary lobe principle, remain the favourite pump for applications where high pumping speeds are required for pressures in the region of 0.01 to 50 mbar. This pump must always be backed by another pump, which can deliver against a high-pressure differential to atmospheric pressure. Operating at relatively low pressures, the mechanical booster pump is not exposed to the same concentrations of corrosive process media as is the backing pump, which makes it reliable.
The GLS has been improved, upgraded and fine-tuned to deliver better dependability and productivity combined with minimal maintenance and process downtime. This is crucial in demanding applications such as the automotive industry, aerospace sector and their supply chains.
Atlas Copco liquid ring vacuum pumps are offered as standard packages in a number of configurations, suitable for operation in once through, partial or total recirculation. The AW liquid ring vacuum pumps are available for both single (AWS) and two stage pumps (AWD) with capacities from 200-37500 m³/h and vacuum levels down to 30 mbar (a).