Atlas Copco Provides Electric Compressor and Generator for High-Tech Fire Extinguishing Systems
MicroCAFS manufactures compressed air foam systems, which can be used with highly viscous extinguishing agents that are conveyed at high flow rates.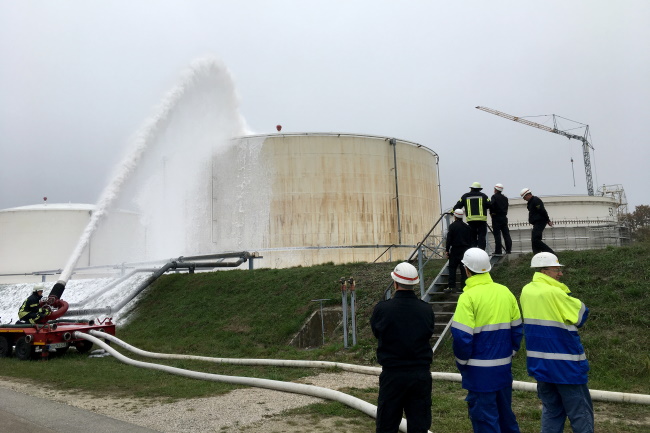 MicroCAFS foam extinguishing systems use a special technology to take flow rates to a whole new level for extinguishing industrial fires. The largest system currently available delivers up to 32000 litres of foam mixture per minute. (Image source: MicroCAFS)
The compressed air foam is very environmentally friendly and can reach higher than conventional water-foam systems. The solution is enabled by Atlas Copco's E-Air 900T electric compressor, which delivers the power needed to shoot the water-foam mixture up to 80 meters in the air.
"Our customer, a large energy supplier in China, uses the air foam system to cool down its large transformers," explains Karl Perr, managing director of MicroCAFS PBK GmbH. "The transformers use over 60 tons of oil each, and the operating temperatures can range from 80 to 90°C. If a transformer wall ruptures, the oil is likely to spill and combust, putting the entire substation in danger. MicroCAFS is currently the only manufacturer worldwide capable of quickly delivering sufficiently large quantities of compressed air foam to prevent such disasters."
The Bavarian company has made a name for itself in the industry over the last 20 years by supplying the market with compact compressed air-driven units, powerful vehicle systems, pressure proportioning systems, and stationary solutions for industrial applications requiring high flow rates of compressed air foam. Its unique selling point, however, is the foam extinguishing system. The systems offer exceptional flow rate values, ideally suited to help tackle industrial fires: the largest system can deliver approximately 32,000 liters of foam mixture per minute. Around 6,500 liters of the mixture is water mixed with a foaming agent, and the rest is compressed air. Using compressed air foam offers several advantages compared to regular foam, including substantially higher efficiency.
Compressed air foam is very efficient and covers long ranges
"Extinguishing is primarily a cooling process," explains Perr. "With normal foam, the efficiency is around 30 percent. However, using compressed air foam, we can achieve an evaporation rate of over 90 percent."
The high evaporation rate means that MicroCAFS' solutions can be used to extinguish fires in various demanding applications, for example in large lithium-ion batteries used to power ships. That is why the extinguishing system has now been approved for ships that have a battery capacity of up to 1.5 Megawatt (MW). Additionally, the compressed air foam delivers a 20 per cent longer range than conventional water-foam systems. This is enabled by Atlas Copco's E-Air 900T electric compressor, which has been designed to supply high-quality air. It is equipped with a built-in aftercooler and a water separator and can be equipped with a downstream filtering system to further improve air quality.
"Traditionally, the bubble is created by drawing in ambient air, but it can be very dirty," says Perr. "The smoky environment can also lead to problems when it comes to foam formation. With our compressed air foam systems, however, we achieve a much better foam quality, because the foam-water-mixture is generated with the aid of compressed air and conveyed to the discharge device. Once the compressed air and energy are released, the mixture receives an additional push, allowing the foam gun to achieve an even greater range."
Systems designed for highly viscous extinguishing agents
MicroCAFS is among the first to use the new, highly viscous extinguishing agents. The agents offer several benefits, such as reduced environmental impact, but present a challenge to the extinguishing technologies. While conventional foams have traditionally behaved like water-processed foams, the new agents are very tough. Their high viscosity translates to completely different mixing behavior, which means that more effort is required to achieve the high flow rates needed for the desired extinguishing efficiency.
MicroCAFS meets these requirements with its extinguishing system that is developed in-house. The solution consists of only a few key components: foam pumps (eccentric screw pumps), mixing valves, nozzles, or throwers for the application of the water-foam-mixture, compressors, and a generator (if required).
"The foam pumps are our own development," emphasizes Perr. "Where conventional piston pumps would not work with the highly viscous agent, the eccentric screw pumps are perfectly suited for dosing. The mixing valves are our own patented design to eliminate any losses during the mixing process, and the nozzle is a standard product."
The electric compressor is crucial part of the pump. It produces the compressed air with which the foam concentrate is mixed before being shot out via a lance. Here MicroCAFS uses the new E-Air 900T from Atlas Copco. The mobile electric compressor is driven by a 160-kW motor and operates very efficiently and quietly. It supplies compressed air from 7 to 10 bar at a volume flow of up to 25 m³/min and is an energy-efficient and compact alternative to diesel-driven compressors. The unit, which is up to 50 percent smaller and up to 30 percent lighter than most comparable compressors, enables MicroCAFS to shoot the foam up to 80 meters.
The Chinese power company customer has installed MicroCAFS' existing systems as stationary solutions across its site. As it has easy access to power across the location, the compact electric compressors are a good fit. However, when it comes to mobile extinguishing systems that are used, for example, by plant fire brigades on large refinery sites, a different solution is required. In these cases, MicroCAFS uses a QAS 325 generator from Atlas Copco to supply the electricity required for the compressor.
The QAS generator is built for multi-drop use and designed to be moved regularly while ensuring performance, even in the harshest conditions. These generators are also unrivaled when it comes to flexibility, thanks to their simple paralleling capability. The modular design makes connecting multiple generators simple, enabling operators to enhance the efficiency of their installation. The built-in Power Management System (PMS) optimizes consumption and expands the generator's lifetime.
Global customer support
MicroCAFS chose Atlas Copco for its robust, durable equipment and the worldwide customer service offered.
"We are a rather small team, and if our customer in Asia needs support, the manufacturer must be able to provide this together with original parts," Perr sums up. "We have worked with Atlas Copco for many years and discovered that the compressors and generators perform reliably even under adverse conditions. The support has always been great, and they have often provided us with valuable input, for example, suggesting integrating the machines into our systems."
As a next step, MicroCAFS is looking to supply dozens more plants to China. The recently completed pilot plant is not the end of the line: the company is currently exploring the technological and economic limits to design an extinguishing system twice as big as the current offering. Atlas Copco offers compressors in a range of sizes, so it is well placed to continue to support MicroCAFS' future projects.