Atlas Copco: Order and Revenue Growth with Solid Profitability in Q3
Order volumes for large compressors increased, supported by new product introductions and increased market penetration.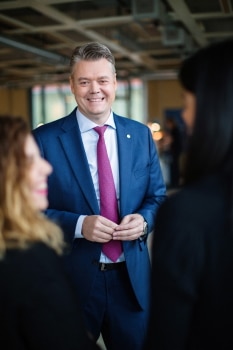 Mats Rahmström, President and CEO of the Atlas Copco Group (Image source: Atlas Copco Group)
For vacuum equipment to the semiconductor and flat panel industry, orders increased significantly, mainly driven by customers' investments in new production technologies.
Order intake from the motor vehicle industry continued to decrease and the demand from other manufacturing industry also weakened. The service business continued to grow in all business areas.
"We have seen lower activity levels in some parts of the market", said Mats Rahmström, President and CEO of the Atlas Copco Group. "Still our profitability is solid and we are resilient thanks to our innovation capabilities, agility and well diversified business and geographical presence".
Orders received in the third quarter grew to MSEK 27,102 (23,440), an organic growth of 6 percent. Revenues were MSEK 26,676 (23,675), up 4 percent organically. Excluding items affecting comparability, the adjusted operating profit increased 11 percent to MSEK 5,880 (5,322), corresponding to a margin of 22.0 percent (22.5). The return on capital employed remained strong at 32 percent.
"We focus on developing leading products and service solutions that ensure that our customers get the most out of their investments, increasing productivity and uptime", said Mats Rahmström. "Being a decentralized group we empower our people to take decisions based on their competence and knowledge of the market. That combined with a strong local presence creates lasting value for our customers".
Looking ahead, in the near-term, the demand for Atlas Copco's products and services is expected to be somewhat lower than the level in the third quarter.