Atlas Copco Launches New Large GHS VSD+ Pumps Capable of Halving Central Vacuum Supply Energy Costs
Atlas Copco has extended its range of variable speed driven vacuum pumps with the addition of three models offering flow rates up to 5004 m3/h. The new GHS 3800-5400 VSD+ rotary screw pumps are particularly suited for large industrial vacuum users in the UK's glass, plastics, canning and food packaging industries.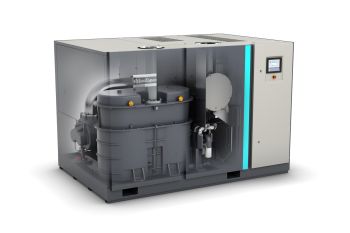 Atlas Copco
Companies in these sectors stand to reduce their energy consumption by up to 50 per cent if they upgrade their existing centralised vacuum systems or switch from using multiple, decentralised point-of-use pumps to a central vacuum system based on one or two super-efficient GHS VSD+ machines.
Richard Oxley, Vacuum Product Manager for Atlas Copco in the UK commented: "We see massive potential for further adoption of this technology in the UK and predict that the vast majority of large vacuum users in associated industries, potentially in excess of 90 per cent, could stand to halve the energy consumption of their industrial vacuum systems as a result. To ease the transition to a central vacuum system we're offering free vacuum energy audits to new customers and a 30-day no obligation trial of the technology on certain models."
Oxley added: "To illustrate this, I recently visited a company in the food packaging industry who we predicted could save in excess of £16,000 a year in energy costs by replacing their existing centralised system with a smaller number of GHS VSD+ pumps. Following this, an independent energy auditor was brought in to verify the results, while the pumps were on trial, who further upgraded the potential savings to the region of £20,000 a year."
GHS VSD+ pumps provide significantly higher performance levels and reduced maintenance, noise and heat emissions compared to conventional oil-sealed and dry vane vacuum pumps. When installed as part of a central vacuum system, they can be used to precisely tailor vacuum production to meet customers' demand. All the pumps are equipped with easy-to-use Elektronikon controllers that can be integrated into a process control system and also control other manufacturers' vacuum pumps. They are also fitted with a Smartlink remote monitoring system and variable speed drive, making them extremely economical to run. Additionally, the pressure set point control function ensures the pumps deliver the lowest possible vacuum flow with which the required vacuum can be maintained. As a result, no excess energy is wasted and life cycle operating expenses are significantly reduced.
"The payback period for a converted system is extremely short," adds Richard Oxley. "The new units deliver more cubic metre per hour, per kilowatt than any other vacuum pump of comparable capacity."
Due to the extremely high oil retention capacity of the GHS VSD+, environmental impact at all operating pressures is significantly lower compared to similar sized oil-injected vacuum pumps. The range also now includes a patented oil separator that limits residual oil levels to a maximum of 3 mg/m³. "This means the exhaust air is significantly more environmentally-friendly in comparison to other pumps on the market" Oxley reports.
The cooling system is equipped with an electronic thermostatic valve that accurately controls the oil temperature. Consequently the oil retains its optimum consistency, as any entrainment of water to the oil cycle by condensation is avoided. The cooling system also operates with a speed-controlled fan to minimise energy requirements. The vacuum pumps in the GHS 3800–5400 VSD+ series are available with water or air cooling.
The GHS VSD+ range, which previously offered a maximum flow rate of 1810 m3/h and has now been extended upwards to 5004 m3/h, is specifically designed to reduce maintenance requirements and ensure life-cycle costs are kept low. For instance, there are no rotary vanes to replace and the patented, sturdy screw element does not require maintenance for many years. In addition, intake filters and oil separators can be replaced without dismantling any piping. Service intervals are generally very long and operators can obtain information on any required maintenance work in a quick time by connecting the pump's integrated Smartlink remote monitoring system to a plant's communication network.
Atlas Copco supplies GHS VSD+ pumps as part of a plug-and-play system within a single housing. Installation is very quick and simple, saving both time and space. The units have a smaller footprint than other pumps of comparable capacity: Even the largest variant of the GHS VSD+ series (3800-5400) is less than 2 m x 3 m. The models are also considerably quieter than comparable pumps and comply with environmental and energy management systems in accordance with ISO 50001 and 14001.
In addition, the technology enables shorter production cycle times because the pump reacts very quickly to changed process conditions in the pressure range relevant for the user. Meanwhile, the special inlet control valve, which is operated in close liaison with the variable speed drive, allows energy consumption to be minimised further.
Optional energy recovery components can be integrated into the system, allowing users to recover a large amount of the heat that is unavoidably generated by compression without sacrificing pump performance. Atlas Copco reports that recoverable energy levels of about 75 per cent are possible in some applications. Energy recovery also keeps heat release in the vicinity of the units to a minimum. This means that air conditioning systems are not needed for nearby work stations, which is especially important in food packaging environments.