Atlas Copco, Its Customers and WeForest Partner Up to Plant a Forest in Burkina Faso
Atlas Copco launches a 6-month, worldwide campaign that will contribute to the reforestation in Burkina Faso. Customers buying a Variable Speed Drive (VSD) compressor do not only save energy, they also help to save the environment thanks to this campaign.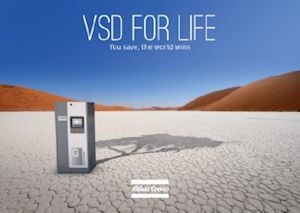 Atlas Copco
For every kilowatt sold, Atlas Copco donates one or two trees, depending on compressor model purchased, to WeForest, an international non-profit association. Atlas Copco hopes to reach the target of 225 000 trees after 6 months.
A Variable Speed Drive (VSD) compressor, matches the compressed air flow exactly to the user's demand by varying the speed of the drive motor. Variable Speed Drive compressors avoid losses and can save on average 35% on energy costs, compared to fixed speed models. The new GA VSD+ range can even save 50% on average. With this campaign, Atlas Copco wants to help its customers save energy, benefitting the customer as well as the environment. Atlas Copco, which holds "Sustainable Productivity" as its brand promise, wants to take its responsibilities towards its customers and towards the environment seriously. Koen Lauwers, Vice-President Marketing from the Industrial Air Division comments: "Atlas Copco believes in conducting business in a manner that preserves the environment for future generations. With this campaign, we go one step further. We don't just want to preserve nature, we want to create it. By endorsing WeForest's project, Atlas Copco shows its strive to be a good and reliable corporate citizen."
Customers save energy, Burkino Faso wins trees
Atlas Copco will plant a tree for every VSD kilowatt sold. For VSD+ compressors Atlas Copco donates two trees per kilowatt. The GA VSD+ is Atlas Copco's most recent innovation: this compressor is driven by a permanent magnet motor and achieves energy savings of 50% on average. For every compressor with integrated energy recovery, a system that allows to reuse the heat of the compressor, another 10 trees are donated. The target is to plant 550 acres of forest after 6 months, a surface area about as big as Central Park in New York. Atlas Copco gives the campaign a head start by donating its prize money of the Sustainability Award, won by the project team of the GA VSD+ , completely to WeForest, representing 14 500 trees.
Greening the desert
With the campaign, Atlas Copco will contribute to the "Great Green Wall", the replanting of the native forest that will reverse the decline of biodiversity by pushing back the desert. Moreover, the new forest will promote sustainable, local economy and empower local farmers and their families. WeForest is an international, apolitical non-profit organization with activities in over 12 countries. Read more about WeForest.