Atlas Copco appoints Alexander Pavlov as General Manager of Atlas Copco Compressors UK & Ireland
Atlas Copco has announced the appointment of Alexander Pavlov as General Manager for its Compressor Technique business in the United Kingdom and Ireland. In this new role, Alexander will lead local operations with a clear mission to strengthen even further the market leader status of Atlas Copco Compressors across the region.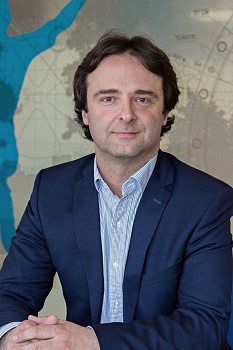 For last two years Alexander Pavlov managed Compressors business in Ireland. (Image: Atlas Copco)
Alexander states his mission as: "It's all about further profitable growth in all dimensions – sales of our core and new products, systems and services; plus further development of both direct and indirect sales channels, and continuous improvement of our operational efficiency for sales, marketing and service."
The strength of the Atlas Copco brand, with a huge installed base, plus a number of new compressed air, industrial gas and rough vacuum products and services, including the recently launched VSD+ compressors and vacuum pumps that offer energy savings of up to 50%, together make Atlas Copco Compressors' sales organisation well-armed to focus exclusively on growth. As Pavlov explains: "All of our products and services have one feature in common, which is that they offer customers sustainable productivity. On top of that we continue to improve our operational efficiency, following the recent implementation of new ERP and CRM systems, which is in line with our company-wide focus on providing customer satisfaction."
The aftermarket business is one of Pavlov's main focus areas. Atlas Copco's local organisation in the UK and Ireland has a highly-experienced service team and operates advanced planning and remote monitoring systems, which allow it to exceed customer expectations when providing service and supporting uninterrupted customer productivity and energy efficiency. "Our strategy is to convince more customers to subscribe to a service plan with Atlas Copco or authorised distributors, which will enable them to keep maintenance costs at a stable and predictable level, avoiding any unexpected situations and increasing uptime." commented Pavlov.
Pavlov is not new to the Atlas Copco UK team, as for the last two years he has been managing the Compressors business in Ireland, interacting regularly with British colleagues. He says, "I know many people in the UK customer centre and I can say that we have a great mix of experienced mature employees and young high potentials. It is a great honour to be leading such a team."
Alexander is a Belgian citizen. He graduated as a software engineer from St. Petersburg Marine Technical University and then worked for Alcatel group, prior to joining Atlas Copco Compressor Technique in Antwerp in 2003. He held the positions of Information Systems Project Manager and Product Marketing Manager. In 2011-2015, he was working as Regional Business Line Manager for South East Europe, based in Greece, followed by an assignment as Country Manager, Ireland.
Outside of work, Pavlov dedicates most of his time to his family, with a wife and three sons aged between 5 and 18 who are relocating to the UK in the coming months. He follows many sports, with a particular interest in football, ice hockey and volleyball. In addition, Alexander likes history, classical rock music, and playing some guitar in his spare time.