ATEX Certified Liquid Ring Pump
BOC Edwards is pleased to announce its new ATEX Category 1-certified liquid ring vacuum pump range. The pumps safely evacuate wet and dry gases within internal Zone 0 hazardous chemical environments, helping companies comply with ATEX directive 137.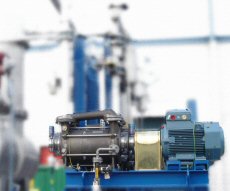 (Photo: BOC Edwards).
Following a detailed product development programme, the pump is now a certified Category 1 solution for operation in Zone 0 applications. This means it provides protection against a rare malfunction in environments where there is a high possibility of explosion following an ignition - such as in chemical processes with flammable atmospheres.
"With the June 2006 deadline for compliance with ATEX 137 fast approaching, plants are under increased pressure to ensure that processes are ATEX compliant," explains Phil Rawlinson, business manager – industrial systems BOC Edwards. "As a leading vacuum equipment manufacturer it is our responsibility to make sure that we have a reliable, cost-effective solution for our customers."
Each ATEX Category 1 pump is fitted with two switches that monitor the flow and pressure in the external shaft seal flush. The operator is alerted should any changes in the lubricant availability occur, and the mandatory control circuit closes the pump system down before the pump overheats. This ensures that the pump stays within the specified temperature class and eliminates the risk of ignition.
Both single and two stage pumps are available within BOC Edwards' ATEX category 1 pump range, which comprises of the SHR, Alpha and AL series. Single stage pumps can pump up to 11,000 meters cubed per hour (6,475 CFM) and are able to operate continuously at all suction pressures from atmospheric down to 30 torr (40 mbar). Two stage pumps have suction capacity up to 7500 meters cubed per hour (4,412 CFM) offering greater efficiency at lower pressures.
For more information about BOC Edwards range of ATEX approved vacuum pumps or liquid ring vacuum pumps please ring 01293 528844 or email info@bocedwards.com