ATEX Certification for TWISTER
Rietschle's cool running TWISTER series has been certified by an EC Notified Body, as complying with the requirements for Category 1 of the ATEX Equipment Directive 94/9/EC, which comes into force from June 2003.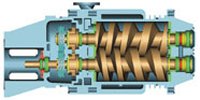 (TWISTER VSB Vacuum Pump, Source: Rietschle)
Thought to be one of the simplest screw vacuum pump designs on the market, the TWISTER has now passed the necessary inspections and tests for use in potentially explosive atmospheres; in Zone 0 T4 gas group IIb areas (internal hazard zone rating), and in Zone I T4 gas group IIb areas (external hazard zone).
The low temperature performance of the pump is the result of a patented, progressive pitch screw with internal compression - rather than complex computer control of the drives, or cooling of the screws. This highly efficient design also offers up to 30% savings on power consumption, compared with standard screw sets.
One unwanted consequence of running at these low internal temperatures is the likelihood of process vapours condensing within the pump, possibly resulting in corrosion. Rietschle has overcome this by applying an anti-corrosion coating of 1'Niflon'or 2'Nifa' to process wetted parts.
Rietschle's process systems manager, Dave Laurenson, said that a further, forthcoming ATEX Directive (1999/92/EC) would be implemented in July 2006. "This could mean modifications are needed to existing " Pre ATEX" plant, where an 'assessment of explosion risk' determines that a potential hazard exists; for example by fitting flame arresters. We are happy to survey customers' plants to advise on any necessary measures as a guide to compliance with current and future legislation."