ASV Stübbe Presents the New Thermoplastic Centrifugal Pump System SHB
ASV Stübbe has developed a modular system, which is designed to reduce costs and facilitate configuration due to its flexibility and versatility. The new SHB series has been specially designed to meet the requirements of environmental and surface technology.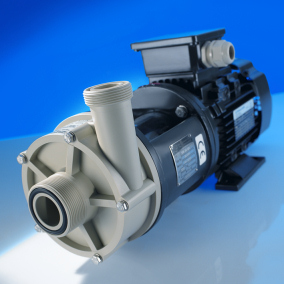 Thermoplastic Centrifugal Pump System SHB
The SHB manages flow rates of up to 50 m³/h at heads of up to 42 metres.
The new centrifugal pump is available in six sizes from 15-80 to 50-180 with drive ratings of up to 7.5 kW. Due to the consistent thermoplastic design the spiral casing has no metal armouring, which reduces production costs, improves corrosion resistance and offers a considerable economical advantage to the customer.
The SHB is a single-stage, single flow pump in a horizontal spiral casing with axial suction socket. The hydraulics and unit components coming into contact with the media are made of solid, corrosion and wear-resistant plastics.
The unit stands out for its compact design. Like all ASV centrifugal pumps, the SHB also operates with a half-open or closed radial im-peller mounted independent of the rotational direction and featuring fluid-tight encapsulation.
The motors (IEC standard with 1450 or 2900 rpm) are directly con-nected to the impeller via a coupling or plug-type shaft system. The motor housing (IP 55) is protected with a 2-component corrosion protection coat against aggressive circulated air.