Armstrong Unveils New Controller for Multi-pump Installations with Variable Load Demands
Armstrong Fluid Technology has announced the release of its new Integrated Pumping System (IPS 4000), an automation solution for commercial HVAC pumping stations of up to 8 pumps and 16 zones.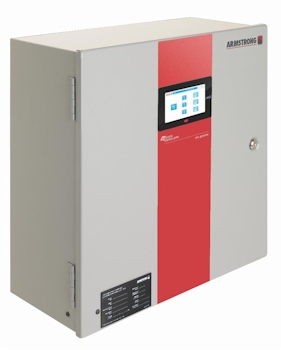 New IPS 4000 (Image: Armstrong Fluid Technology)
The new IPS 4000 automates and optimizes multi-pump installations in a range of different plant configurations. Moreover, it provides sequences for variable-primary, secondary or tertiary pumping system applications and it delivers leading energy savings, with patented Parallel Sensorless pump staging technology.
Pre-configured to leverage the capabilities of Design Envelope, the technology embedded in Armstrong pumps, the new IPS 4000 offers fast and simple setup for the most cost-effective and efficient pump control results. The IPS 4000 is compatible with existing building automation systems and ships pre-programmed for easy installation and set-up.
Commenting on the value provided by the new IPS 4000, Peter Thomsen, Director, Building Systems Solutions, stated, "The new IPS 4000 is a great control and automation solution. In particular, it will add value in any building that has short peak loads or that needs a hybrid solution to provide both Sensorless staging and critical zone sensors."