Armstrong Helps Customers Achieve Major Energy Savings Milestones
As part of its global sustainability initiative, Armstrong Fluid Technology announced at Greenbuild Expo 2017 that it has helped customers worldwide save more than one billion kWh of electricity with an estimated value of over $100 million since 2007.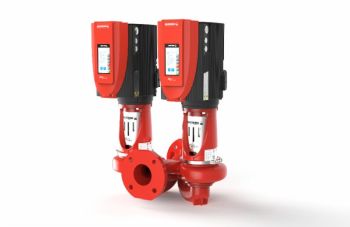 The Armstrong Tango Parallel Sensorless Pump is one of the "Next Evolution" solutions designed to achieve significant energy savings (Image: Armstrong)
These energy savings avoided nearly 350 tons of CO2 emissions, which is equivalent to taking 75,000 cars off the road for one year.
Armstrong began projecting their customers' energy savings 10 years ago, as part of a company-wide commitment to sustainability.
According to the company, the technology at the core of Armstrong's groundbreaking advances in building performance is Design Envelope, a demand-based intelligent control solution that models equipment and system behavior, monitors actual system conditions, and dynamically adjusts equipment operation to match system demand. Design Envelope technology enables the greenest, most flexible and most cost-effective fluid-flow and HVAC systems on the planet – resulting in both lowest installed cost and the lowest operating cost.
Planet Proposition Helps Armstrong Drive Sustainability Across the Organization
In early 2013, Armstrong unveiled its Planet Proposition, a plan to embed sustainability as a key metric for its manufacturing facilities around the world. This initiative has driven a number of sustainability projects that are helping Armstrong meet specific targets.
As part of the Planet Proposition initiative, Armstrong sites in Canada, USA, China, India and the UK have committed to reducing their own
electricity, gas and water consumption. This has resulted in company-wide reductions in the use of electricity (13%), natural gas (22%) and water (47%).
One particular success story involves the installation of a 250 kilowatt peak (kWp) solar PV system at the Armstrong factory in Manchester, UK. In 2016, the solar photovoltaic panels generated 193,230 kWh of energy. Approximately 90% of this energy was used in the Manchester production facility and the remainder was exported to the electrical grid. In total, the factory generated 36% of its energy requirement through solar power.
Armstrong s Next Evolution Solutions Help Achieve Energy Savings Milestones
In conjunction with its sustainability milestones announcement at Greenbuild 2017, Armstrong Fluid Technology announced that its next level of innovation in pumping solutions, unveiled earlier in the year, is already providing increased energy savings for customers worldwide.
The 'next evolution in pumping solutions' consists of providing new integrated Armstrong controls with extended intelligence, wireless connectivity, Parallel Sensorless Pump Control and on-board web services. These advancements can help building managers realize energy savings of 80% or more compared to traditional HVAC solutions.
Design Envelope technology now looks beyond energy savings to provide a comprehensive view of HVAC performance management.
The features that allow the new line of Design Envelope pumps to provide these impressive results include:
Extended Intelligence – a new, integrated Armstrong controller provides a wide range of new functionality including on-board diagnostics, trending and alerts
Real-time Connectivity – connectivity options include BACnet, BACnet IP, and Modbus. All pumps are delivered with both wireless and wired connectivity.
Advanced Controls – this set of capabilities transforms Design Envelope pumps from intelligent to self-aware, with a new touchpad with easy-to-use guided processes and intuitive HMI, as well as access to real-time performance and pump conditions.
New Armstrong iECM™ motors – permanent magnet motors with integrated drives and controls deliver IE4 levels of energy efficiency (on select models), as well as very low vibration levels.
Reduced weight and space provides for easier installation and reduced shipping and handling costs. For example, the new 5hp motor and controller combined weigh just over 40 pounds as compared to 150 pounds
"Access to real-time data and trending, delivered by Design Envelope technology, supports a change from simply contributing to building performance to a role in which we are also managing and extending building performance," Armstrong CEO Lex van der Weerd stated