Armstrong Fluid Technology Opens New Factory in Manchester
On 16th October 2014 Armstrong Fluid Technology celebrated a landmark in its history with the official opening of its new UK HQ in Manchester. The Past Present Future event was organised to mark two important anniversaries, the move to a new factory, and the announcement of key drivers for the company's future.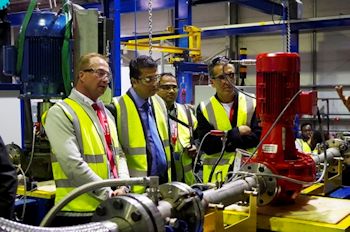 Delegates view new pump test rig during Past Present Future event factory tour (Image: Armstrong)
80th birthday for Armstrong Fluid Technology
In 2014 Armstrong Fluid Technology celebrates 80 years in business. Established in Canada in 1934, it remains privately-owned by the Armstrong family. Today it employs more than 1,000 employees worldwide, and operates seven manufacturing facilities in three continents. Its HQ is in Toronto, Canada, and it has offices in Montréal and Quebec City, Buffalo (North America), Lyon, Bangalore, Beijing and Shanghai, as well as London, Manchester and Birmingham.
10 successful years in Manchester
This year also marks an important landmark for the UK business of Armstrong Fluid Technology. In 2004, Manchester-based family business Holden Brooke Pullen went into receivership. It was bought by Armstrong, securing the majority of the jobs at the factory and expanding the company's UK operation and product portfolio.
Today, despite the economic downturn, the company has continued to build on its success. It leads its field (fluid flow and control equipment used primarily in heating, ventilation and air conditioning), has an extensive R & D programme, and is expanding into new markets.
The Past Present Future event also marks the official opening of Armstrong's new factory. The company leased its previous factory in Wenlock Way, but has now invested in the future of manufacturing in the Manchester area, purchasing a new factory in Wolverton Street. The property has larger, newer facilities that will enable the company to continue to expand and improve.
Steve Cooper, Director – Sustainable Design at Armstrong Fluid Technology said, "The last decade has seen steady growth for our UK operation. There have been fewer large-scale construction projects in recent years due to the economic downturn, but there has been an increasing awareness of the financial and environmental impact of energy usage in buildings. This is where our particular expertise lies, and we have been able to secure projects by offering solutions which reduce consumption, cut energy costs, minimise carbon footprint and shorten project timescales, as well as keeping the costs of installation and maintenance to a minimum".
Armstrong Fluid Technology's switchboard telephone number and direct dial numbers remain the same, as do all email addresses. The new site has excellent transport links and the company looks forward to welcoming customers to its new Manchester site, in addition to its existing facilities in Halesowen, West Midlands, and London.