Armstrong Cuts Installation Times and Carbon Impact for New Peterborough Hospital
HVAC equipment from Armstrong has speeded the way for the construction of the new Peterborough City Hospital, and will reduce energy costs and carbon impact of the site throughout its lifetime.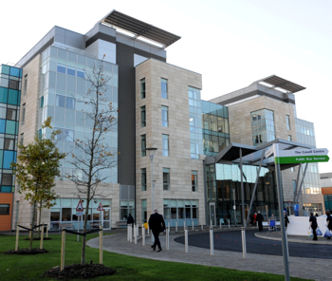 Peterborough Hospital (Image: Armstrong)
The new £335 million Peterborough City Hospital brings together services provided by Peterborough District Hospital, Edith Cavell Hospital and Peterborough Maternity Unit. It incorporates 18 operating theatres, a 16-bed critical care unit, a dedicated unit for women and children, and a state-of-the-art emergency centre.
The project was given the green light in 2007, following four years of design, planning and approval. Contractor Mercury Engineering (UK) decided that off-site packaging of the building services elements for the project would be beneficial for the challenging 100-week build schedule and 35-week commissioning phase. Mercury Engineering approached Armstrong – manufacturers of HVAC equipment, and experts in packaged plant and off-site manufactured integrated plant rooms – to provide key systems for the new hospital's energy centre.
Armstrong supplied a broad range of equipment for the project, including plate heat exchangers and pressurisation units, as well as variable speed pumps and booster sets. At its purpose-designed factory in Halesowen, West Midlands, Armstrong 'packaged' and tested the equipment.
At the heart of the energy centre for the hospital are two Armstrong 8000 Series packaged pump solutions, each incorporating three variable speed pumps. These were pre-assembled, on skids, for delivery to site, on the dates required, requiring only final connections.
Armstrong 8000 Series packaged pump solutions are complete fluid management systems, which are pre-designed and off-site manufactured, with the capability to be configured to suit the specific application. They offer specifiers lowest first installed cost, reduced footprint and the opportunity for outstanding energy efficiency performance.
Costs involved in designing the system are removed, and as the pump solutions are designed by Armstrong (a world-leading manufacturer of HVAC equipment with almost 80 years experience in pump design) they offer the best possible integration of pumps with controls technology for exceptional performance.
As the pump packages for Peterborough City Hospital were fully assembled and tested before leaving Armstrong's factory, many potential risks traditionally associated with major construction projects were eliminated. Key building services elements were carried out concurrently with other parts of the construction phase, avoiding delays and bottle-necks. In addition, the pre-testing of systems reduced on-site installation and commissioning times considerably.
These benefits assisted Mercury to meet the deadline for the completion of the project, with the new hospital opening its doors to patients in December 2010.
Wayne Rose, marketing director of Armstrong said, "In projects of this type, slippage is out of the question due to the complex project management of relocating patients and departments. Packaging of plant is ideal for this type of project, as it simplifies the schedule by removing key elements of the building services from the plan. The approach of constructing and testing pump skids off-site has proved, time and time again, to be an ideal way to proceed on hospital projects."