Aquatech Asia 2003 – an Event Not to Be Missed
October is coming and that means the Aquatech Asia 2003 will open its doors. Read the latest details on the Aquatech Asia Forum and see the list of exhibitors and supporters.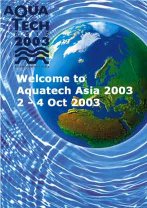 The show is supported by Provincial Waterworks Authority of Thailand, Metropolitan Waterworks Authority of Thailand, the Pollution Control Department of Thailand, Regional Institute of Environmental Technology, United States-Asia Environmental Partnership, United States of America Department of Commerce, Office of the National Water Resources Committee of Thailand, Department of Environmental Quality Promotion of Thailand and Waste Water Management Authority of Thailand.
"The Asian water market offers the greatest potential for growth to investors and suppliers of equipment and services. With growing industrialization and urbanization, host country Thailand's US$ 550 million-water resources and equipment market grows at a rate of 3-5% annually. Demand for imported equipment and services increases as the country continues its development efforts to ensure adequate water supply and effective flood management. The show is also once again certified by the US Dept. of Commerce, and is the only certified environmental show hosted by Thailand," stated Mr. Marcel Ewals, Managing Director of RAI Exhibitions (Thailand) Co.Ltd., the organizers of the trade fair.
One of the main highlights of event will be the Aquatech Asia Forum 2003, with "The Cost of Water in a Sustainable Environment," as its theme. The forum is jointly co-organized with the Provincial Waterworks Authority of Thailand. The forum will be a platform of regional discussion and information exchange as a follow-up to the recently concluded World Water Forum in Japan. The keynotes of the conference will be given by Ministers of several Asian governments who will present updates of their respective country's master plans in conjunction with the World Water Forum's outline of closing the "Water Gap". Moreover, key speakers in the industry will also deliver presentations at the Forum.
Aquatech Asia - part of the Aquatech Business Media network - includes Aquatech Amsterdam - as well as Aquatech Latin America (Brazil), IWEX (UK) and EWW (Poland).
As of July 21, 2003, Aquatech Asia 2003 Exhibitors include:
Airtree Ozone Technology Co., Antunes Filtration Technologies, Asian Water,
Bayer Ag Chemicals, Brentwood Ind. Inc., Buyer's New Engineering Products,
CO.GE.DA SCRL, Contazara Ltd.,
Easy Well Industrial Co., Ltd.,
Function Group,
Green Book - Promedia Periodicals,
Guangdong Changhong I & T Co. Ltd.,
International Water & Irrigation Review, IPI Europe Ltd.,
John Guest,
Kflow (Shanghai) Water System Co.,Ltd, KSH Gmbh,
Malaysia food & Beverage Manufactures & Exporters Directory Edition 2003, Manufacturing Review, MRC Asia (Thailand) Ltd,
Omnipure Filter Co.,
P.C. Container Co.,Ltd., Pollution Equipment News/Rimbach Publish, Polyware Sdn Bhd, Puregen Technology Inc.,
Triwin Watertec Co. Ltd.,
Vanson HaloSource Corporation,
Water & Wastewater Asia, Wattanasuk Co.,Ltd, Water Conditioning & Purification, Waterco Limited, Wave Cyber (Shanghai) Co.,Ltd , WonBong Co., Ltd and more.