APV Launches Hygienic Centrifugal Pump
APV announces the launch of its new AB Pump. This hygienic pump is designed for use in the dairy, food, beverage and brewing industries.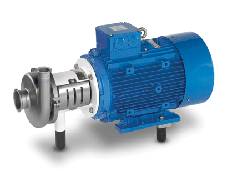 AB Pump (source: APV Invensys)
According to Tina Randløv, APV Product Manager, "The AB pump is a cost-effective alternative to our popular W+ pump. The difference is that the AB has been especially developed for use in less critical applications, where the superior features and multiple options of the W+ pump are not necessarily a must."
As with all APV products, there has been no compromise on quality. The lower price compared with other APV pump series derives only from a reduction in the technical specifications. By cutting down on features and options, the cost has been considerably reduced. The result is a top quality pump at a highly attractive price.
The hydraulic performance of the AB Pump is engineered to meet the requirements of most typical applications. Developed especially for use in the hygiene industry, it is also designed for ease of maintenance.