Andritz to Supply Equipment for the Muskrat Falls Hydropower Plant
Andritz Hydro has received an order from Nalcor Energy to supply four 209 megawatt (MW) Kaplan turbines and four synchronous generators for the new Muskrat Falls hydropower plant in Labrador, Canada. Commissioning is scheduled for 2017.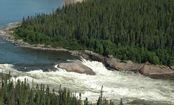 Andritz
The power generated will be used to replace the energy production of an oil-fired thermal power station.The order has a value of approximately 125 million euros.
Andritz Hydro's scope of supply includes design, manufacturing, installation, commissioning, and testing of the Kaplan turbines, which are among the largest in the world, the four generators, as well as governors, static excitation systems, and the monitoring, protection, and control equipment.
The turbine engineering is based on the hydraulic developments at Andritz Hydro's turbine laboratory in Lachine, Quebec, the only hydraulic development and test facility of its kind in Canada.
Muskrat Falls is located on the Churchill River, 35 kilometers from Happy Valley-Goose Bay. Some of the power will be exported from the province via subsea cables between Newfoundland and Nova Scotia.