Andritz Presents New Digitalization Platform and Digital Products
International technology group Andritz will be presenting its new all-in-one, Internet-based Human-Machine Interface and its comprehensive portfolio of digital products and solutions – offered under the technology brand name Metris.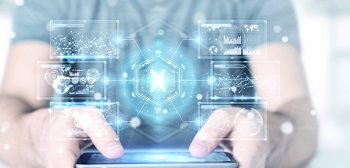 Andritz Presents New Digitalization Platform and Digital Products (Image: Andritz)
The newly developed Metris digital platform is an Internet-based Human-Machine Interface (HMI) that enables full support for industrial plants throughout their entire life cycle. By using the platform, customers achieve higher productivity and a significant reduction in downtime as well as benefitting from fully automated smart services like the online Metris Spare Parts Catalog.
Digital networking between humans and machines as well as connecting systems urge the need for data safety and protection against cyberattacks. So cybersecurity has become of utmost importance to all industries worldwide. Andritz and its majority-owned subsidiary Otorio, a company founded by former Israeli defense forces' cyber experts with decades of experience, have developed an extensive cybersecurity program ranging from advanced assessments and consulting services to the implementation of proven cybersecurity and risk management technologies.
Andritz has embedded Otorio's innovative solutions into its market-leading products and services, thus ensuring every machine meets the highest cybersecurity standards. The advanced services are delivered in the safest way, ensuring the customer's continuous efficient and effective production with proprietary data security.
The digital technologies combined under the Metris technology brand reflect the state of the art in the IIoT/Industry 4.0 sector and provide comprehensive support to customers. Metris products help customers achieve their production and corporate goals in terms of increasing the efficiency and profitability of plants, optimizing the use of resources, avoiding breaks in production, and achieving highest product quality:
Metris Smart Service for online customer interaction
Metris Smart Service covers all digital services for customer interaction on the basis of connected, intelligent software solutions supporting various business processes. Metris Customer Care, an innovative communication platform and single point of entry to all digital services, provides full visibility for all customer interactions and simplifies collaboration with Andritz.
The Metris Spare Parts Catalog enables the customer to identify all of the machines and systems in the plant and then select the exact spare parts required. Using either 2D-drawings or 3D-models, the Metris Spare Parts Catalog guarantees that only the correct spare parts are requested and that a quote is issued within a very short time. With a dedicated focus on usability and simplicity, the Metris Spare Parts Catalog provides greater efficiency for our customers.
Metris OPP (Optimization of Process Performance) is a piece of analytical software that collects information from systems about each control loop, control valve, motor, and other process variables on sites like chemical plants, steel mills or pulp mills. Advanced signal processing and statistical tools identify potential for optimization, which is then interpreted by Andritz experts who work with the clients' operations and maintenance staff. Operational stability increases, and waste is reduced significantly. The business model is based on continuous savings right from the start and a positive cash flow throughout the contract. Andritz's customers have achieved savings of more than 150 million euros, without any additional investment.
Metris Vibe is an integrative condition monitoring solution providing predictive maintenance for machines and plants. Besides monitoring and controlling the machine's performance, Metris Vibe has an innovative vibration and temperature sensor and operates via a wireless connection so that it can also be used on equipment that is very difficult to access or is subject to safety issues. Further advancements like sound intelligence systems using industrial microphones to capture irregularities, including big data analysis, complement the performance scope of Metris Vibe. The result is substantially reduced downtimes, higher efficiency, and greater reliability.