Ampo Foundry Offers High-added-value Valve, Pump & Power Generation Components
The new SCC (Shaped Centrifugal Castings) technology enables components such as valve bodies and adaptors to be obtained via a centrifugal process, which improves performance by 70-80% resulting in more competitive prices.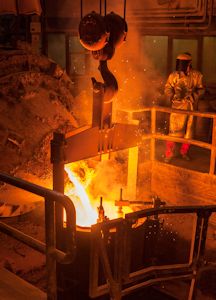 Ampo Foundry
In addition to the improvement in competitiveness, another of the advantages offered is that of quality excellence. By changing from a sand casting process to centrifugal there are no sand inclusions. The centrifugal force prevents shrinkage and since feeder heads are unnecessary, the contributory heat during the cutting process is avoided.
SCC production is fully operational in the foundry, and AMPO has already delivered fully reliable components to leading companies in the market.
Additionally, during the last year AMPO purchased two new vertical centrifugal machines in response to customer requirements. With these new machines AMPO can produce balls of up to 40" as well as bodies and adaptors of up to 24" 900 psi.
Replicast Process Development for Large Parts
For Ampo Foundry ceramic casting will be a strategic process in forthcoming years, which is why it has decided to boost and develop in this area.
The advantages of this type of casting are clear: lower weights, better surface finishes, quality improvements, less milling required, tighter machining tolerances and rapid prototyping.
Ampo has decided to invest in a new Replicast facility. This will enable Ampo to offer large size casting components as well as increase its competitiveness thanks to process automation.
As a result Ampo Foundry will offer casting components for valves, pumps and power generation.
Investment in a New Machining Plant
Ampo Foundry offers a wide variety of solutions, supplying both rough cast and fully machined parts. The machined components offer an important added value, i.e. a reduction in total cost and delivery lead times, in addition to improving quality control.
With a view to increasing our machining capacity and giving our customers better service, we are going to build a new 12,500 m2 machining facility this year as well as investing in intelligent machine tools.