Amarinth Supplies Directly Interchangeable Pumps to Babcock for Refit of HMS Albion
Amarinth has supplied hydraulically and dimensionally interchangeable ISO 5199 centrifugal pumps to Babcock to replace obsolete end-of-life pumps during a refit of HMS Albion.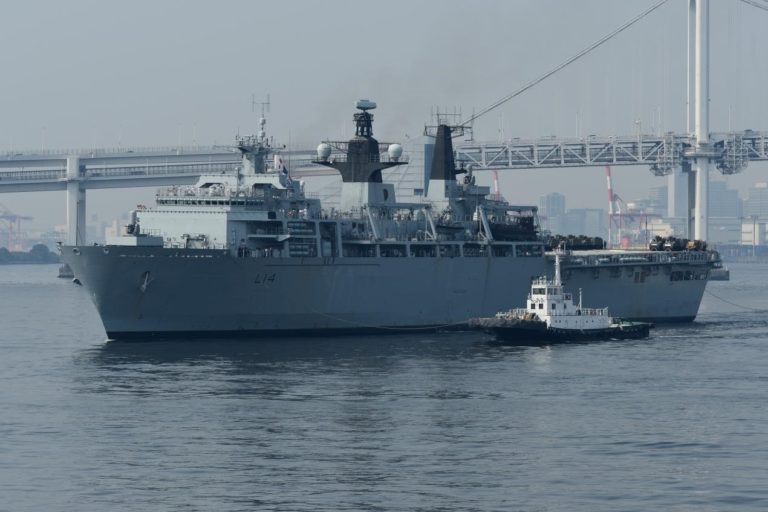 HMS Albion overseas on operational duties. (Image source: Amarinth Ltd.)
When the Royal Navy's HMS Albion came into Devonport for a refit, Babcock approached Amarinth about four chilled sea-water recirculation pumps on the vessel that were installed over 25 years ago and which had reached their end-of-life. The Girdlestone pumps were now obsolete with no replacement available from the original equipment manufacturer, potentially requiring expensive work to fit pipework and mountings to accommodate new pumps.
Obsolete pumps are an issue across many industries and Amarinth has used its extensive knowledge and skills to design a range of ISO 5199 pumps that are both hydraulically and dimensionally interchangeable with Girdlestone pumps. This ensures that old obsolete pumps can be replaced with new Amarinth pumps that will perform the same, or better, than the original pumps, fit the existing footprint and require no expensive modification to pipework and fittings.
Babcock also requires its suppliers to meet stringent security requirements, which in this case included the UK Government backed Cyber Essentials Certification, which Amarinth already complied with. This certifies that an organisation has in place measures to protect against potential cyber-attacks to secure key company and customer information.
To operate reliably in the harsh and challenging marine environment, pumps must be resistant to corrosion, fully shock, noise, and vibration tested, and designed to handle wave motion moments. Amarinth was able to deliver four such ISO 5199 close-coupled duplex sea-water recirculation pumps successfully to Babcock on a tight 20-week deadline to align with the re-fit window and ensure HMS Albion could return to active service on schedule.
Oliver Brigginshaw, Managing Director of Amarinth, commented: "We are delighted that Babcock once again selected Amarinth for new pumps during the refit of a Royal Navy vessel. Our extensive experience in designing pumps for challenging marine duties and our ability to replace existing pumps on a like-for-like basis will ensure that HMS Albion will have reliable and fully supported pumps for a few more decades of operation. We look forwards to providing further pumps for Royal Navy vessels as and when they require similar replacements."