Amarinth Secures Order of API 610 Pumps from Iraq
Amarinth has secured its first order from Iraq Gates Contracting Company for $410K of API 610 OH1 pumps on 22-weeks FCA delivery for the Rumaila oil field, Iraq.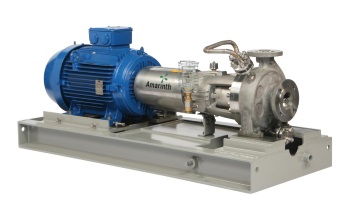 API 610 OH1 Pump with API Plan 11 Seal System (Image: Amarinth)
This first order for Amarinth from Iraq Gates Contracting Company (IGCC) of $410K is for ten API 610 OH1 condensate transfer pumps with Plan 11 and Plan 52 double seals and seal support systems. The pumps are destined for the Rumaila oil field, a super-giant oil field located 50km to the west of the city of Basra, southern Iraq. The Rumaila field is estimated to contain 17 billion barrels, the largest oil field ever discovered in Iraq and considered the third largest oil field in the world. It is managed by the Rumaila Operating Organization (ROO), a joint venture between BOC, BP, PetroChina and SOMO.
IGCC approached Amarinth for the ten identical API 610 OH1 pumps as they were required on an extremely short lead time of 22-weeks Free Carriage Aboard (FCA) from the sea-port in the UK. This is the sort of challenge that Amarinth has successfully delivered against many times in the past for Middle East oil and gas companies and will leave Amarinth just 20 weeks for the design, manufacture and testing of the pumps and seal support systems, including full documentation and NACE certification for all process wetted parts.
Oliver Brigginshaw, Managing Director of Amarinth, commented: "This latest order from Iraq underlines our on-going commitment and investment in the region and we are delighted that IGCC approached us to supply these pumps recognising that we were the only manufacturer that could deliver bespoke API 610 pumps in the lead time they required. In fact, we are seeing that many of the new projects in the Middle East need API 610 pumps on very short lead times as operators start to increase production again, which Amarinth are in a very good position to fulfil."