Amarinth secures order for API 610 VS4 pumps at the ADNOC Ruwais East Refinery, UAE
Amarinth has secured an order from NAMA for $1M consisting of 14 API 610 VS4 pumps with Plan 53B seal support systems destined for the ADNOC Ruwais East Refinery, United Arab Emirates.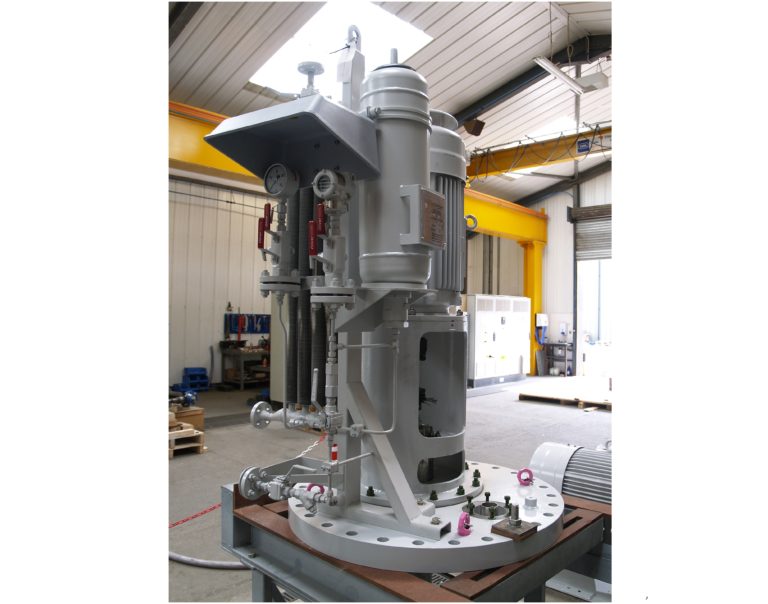 Amarinth API 610 VS4 Pump in assembly. (Image source: Amarinth Ltd)
The ADNOC Ruwais Refinery, located in Al Ruwais Located, 240km west of Abu Dhabi city, is one of the largest refineries of petrochemicals in the world with a capacity of more than 800,000 barrels-per-day.
The $1M order from NAMA is for 14 API 610 VS4 vertical pumps with Plan 53B seal support systems. The pumps will be installed at the Ruwais East Refinery for closed drain duties, oil condensate transfer, and a blowdown drum on a portable barrier fluid system.
Depending on the specific duties, the pumps will be manufactured in either stainless steel or carbon steel and all are ATEX Zone 2 compliant. In addition, the pumps have bespoke baseplates to accommodate a non-standard layout of the Plan 53B seal support systems.
A split delivery schedule was critical to this project with pumps needed at different times, some of them on particularly aggressive deadlines. Amarinth has a good understanding of ADNOC processes and practices following numerous successful projects completed for the company and so was able to use this knowledge, combined with its engineering and manufacturing agility, to meet the challenging delivery requirements.
Oliver Brigginshaw, Managing Director of Amarinth, commented: "We are delighted to be working with NAMA again on this significant order for the ADNOC Ruwais Refinery. Amarinth's strengths include delivering bespoke pumps on short lead times and working closely with our customers in a flexible way to best meet their needs, whether that is in design, manufacturing, or commercial considerations. Our flexible approach in delivering projects ensures that our customers are better able to handle the on-going challenges of prospering in the oil and gas industry."