Amarinth extends its depth and breadth in the Asia Pacific region with new orders from Yinson and Fatima
Amarinth has recently secured two new orders from Yinson Offshore Production and the Fatima Fertilizer Company, further extending the company's presence in the Asia Pacific region.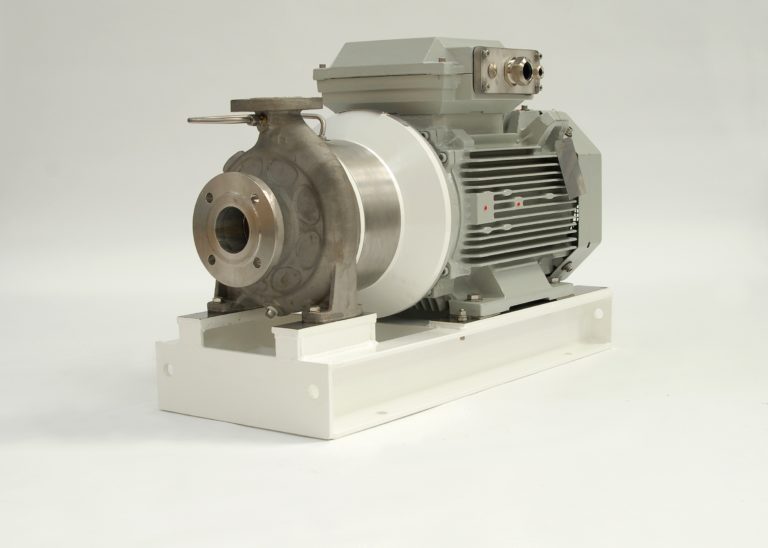 An Amarinth pump for the condensate unit on a FPSO vessel. (Image source: Amarinth Ltd.)
The first order, from Yinson Production, Malaysia, follows a previous successful delivery of pumps to Yinson by Amarinth. This new order of four stainless steel horizontal pumps will be installed on a condensate unit in a hazardous zone aboard a Floating, Production, Storage and Offloading (FPSO) vessel. The FPSO will be moored off the coast of Nigeria processing produced oil as part of the Anyala and Madu Field Development project. The Anyala and Madu fields are estimated to contain combined reserves of 193 million barrels of oil and 0.637 trillion cubic feet of gas. To meet the project schedules, Amarinth will design and manufacture the pumps on an aggressive 18-week delivery deadline.
The second order, from the Fatima Fertilizer Company, Pakistan, is for a 4m vertical sump pump in duplex stainless steel to be deployed in the expansion of its existing nitro phosphate plant in Mukhtargarh, Sadiqabadt, Pakistan. Amarinth already supplies spare parts to support several existing Girdlestone pumps at Fatima Fertilizer and so when a new pump was required for the expansion, Fatima Fertilizer was keen to build on the existing successful relationship. The plant processes rock phosphate to produce nitro phosphate fertilizer and so the vertical pump will be designed to handle liquid phosphoric acid that also contains particulates.
The orders for Yinson and Fatima were both secured through Amarinth's Malaysian office. Established a few years ago in Kuala Lumpur, the office has contributed to a strong growth in orders for Amarinth from the Asia Pacific region.
Oliver Brigginshaw, Managing Director of Amarinth, commented: "We are delighted that our continued investment into the Asia Pacific region, supported through our Malaysian office, is yielding further orders. In addition, the breadth of markets coming to Amarinth for pumping solutions, spanning oil and gas through to process and industrial, is very encouraging for our future business growth in this region."