Amarinth Expands in Asia Pacific With Two Orders for API 610 Water Treatment Pumps
Amarinth has opened a new office in Malaysia to handle increasing demand in the Asia Pacific region, including two orders this year for API 610 pumps from National Oilwell Varco for water treatment plants being built in Singapore and destined for Total's new Egina FPSO vessel and the Mariner platform in the North Sea.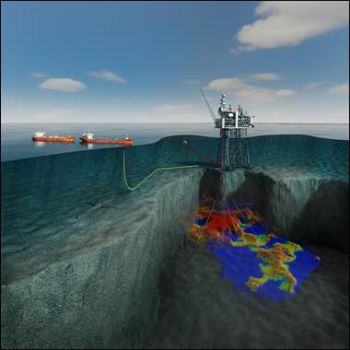 The Mariner field is located on the East Shetland Platform of the UK North Sea (Image: Amarinth)
National Oilwell Varco (NOV) is the topside contractor for the Total's Egina Floating Production Storage Offloading (FPSO) vessel which on completion is destined for the Egina oil field situated 150km off the coast of Nigeria in water depths of up to 1,750m. When NOV required pumps from its Singapore operations for the de-sanding and process water treatment packages to be fitted to the Egina FPSO vessel, it turned to Amarinth, a UK company, as its preferred supplier. The API 610 OH2 pumps with Plan 53B seal systems were also required on a very aggressive 24-week delivery, a timescale that Amarinth had successfully delivered against previously and which helped it secure these orders.
Following these Egina order, NOV in Singapore then turned to Amarinth once again for API 610 OH1 pumps for another water treatment package it was building for the Mariner platform in the North Sea. This was a last minute requirement with evolving scope for a small package to fit within the space constraints of the platform, including the supply of some complex piping, and once again on a tight deadline to meet the project target. On reviewing the specification however, Amarinth advised that an API 610 OH2 pump on a bespoke base plate would actually be a more effective solution to fit within the existing infrastructure. NOV agreed with the recommendations and placed the order with Amarinth.
The strong growth experienced by Amarinth in the Asia Pacific region, underlined by these two recent orders, has seen Amarinth invest in the opening and staffing of a new office in Malaysia. Dzairel Yusuff joins Amarinth with immediate effect as Malaysian Sales Manager bringing with him more than seven years of experience in the Oil & Gas industry in technical sales, marketing and business development roles including the support and supply of pumps packages specifically tailored for the Oil & Gas industry for offshore production platforms, onshore refineries, petrochemicals, marines and FPSOs to support existing clients and drive continued growth.
Oliver Brigginshaw, Managing Director of Amarinth, commented: "We have been active in the Asia Pacific region for a couple of years gradually building our business contacts and winning projects. These orders from NOV have helped us to accelerate our plans and open an office in Malaysia and in welcoming Dzairel to the team we are looking forward to developing a significant footprint in the region similar to what we have achieved in the Middle East."