Amarinth Delivers its First Pump Order from Lamprell to the Sajaa Gas Plant, UAE
Amarinth has designed, manufactured and delivered its first order from Lamprell for API 610 VS4 pumps destined for the Sajaa Gas Plant operated by SNOC in the UAE.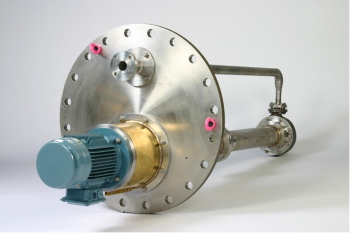 Amarinth API 610 11th edition VS4 vertical sump pump destined for the SNOC Sajaa Gas Plant (Image source: Amarinth Limited)
The order from Lamprell, a leading provider of fabrication, engineering and contracting services to the offshore and onshore oil & gas industry and based in the United Arab Emirates (UAE), was for API 610 VS4 pumps. The 3.8m long closed drain pumps have been installed at the Sajaa Gas Plant, operated by the Sharjah National Oil Corporation (SNOC). The Sajaa Gas Plant is Sharjah's largest production facility and undertakes gas sweetening and sulphur recovery, handling gas from the onshore Sajaa, Moveyeid and Kahaif gas and condensate fields.
Amarinth has extensive experience designing and supplying pumps for the Middle East oil and gas market and so at Lamprell's request Amarinth also managed the appointment of the 3rd party non-destructive testing (NDT) and inspection and certification of the pumps at its premises in the United Kingdom. Undertaking this task streamlined the complete order to delivery process for Lamprell. Furthermore, Amarinth dispatched one of its UK engineers to the Sajaa Gas Plant to assist with commissioning.
Oliver Brigginshaw, Managing Director of Amarinth, commented: "We are delighted that Lamprell selected Amarinth for this order of API 610 VS4 pumps, both our first order from Lamprell and into SNOC. We look forwards to working closely with Lamprell and securing further orders for oil & gas projects within the UAE."