Amarinth Delivers Bespoke Vertical Hydrocarbon Condensate Pump to Sonatrach Refinery in Algeria
Amarinth, a leading company specialising in the design, application and manufacture of centrifugal pumps and associated equipment to the Oil & Gas, petrochemical, chemical, industrial and renewable energy markets, has delivered a bespoke 2.8m vertical hydrocarbon condensate pump to Sonatrach in Algeria as a direct plug-and-play replacement for an existing unreliable pump.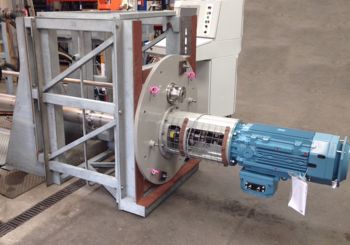 Amarinth Delivers Bespoke Vertical Hydrocarbon Condensate Pump to Sonatrach Refinery in Algeria (Image: Amarinth)
Sonatrach, the largest oil and gas exploration and production company in Algeria and Africa, turned to Amarinth to deliver a bespoke vertical hydrocarbon pump for a refinery in Algeria. Recognising Amarinth's success in delivering engineered API pumps for challenging duties on tight deadlines and its leadership position in industrial pumps, Sonatrach, when faced with an unacceptable failure rate with another manufacturer's pump, asked Amarinth if the pump could be replaced but without changing any of the existing plant or pipework.
The high failure rate of the existing pump meant that a replacement was required very quickly amidst concerns that the refinery could be shut down if a catastrophic failure of the old pump occurred. To meet the deadline, Amarinth selected one of its proven T-Series vertical pumps, an industrial pump with an API pedigree, which it could tailor to Sonatrach's requirements.
Amarinth designed an oversized mounting plate to enable the new pump to fit directly into the existing plant and also modified various fittings and fixings to suit the existing pipework. Combining its extensive knowledge of both the oil and gas sector and industrial markets, Amarinth successfully delivered a high-quality, cost-effective and extremely reliable solution to Sonatrach before the existing pump caused any further issues. The plug-and-play solution, requiring no changes to the associated plant or pipework, resulted in minimal disruption to the refinery during installation and commissioning.
Oliver Brigginshaw, Managing Director of Amarinth, added: "Our core strength has always been an ability to successfully tailor solutions for our customers' needs and in this case we are pleased that Sonatrach, an Algerian company, recognised the skills and expertise inherent in British engineering which we are able to deliver anywhere around the world."