Almatec Quattroflow Pharmaceutical Pumps
Almatec has announced that it will display Quattroflow positive displacement (PD) pumps at Interphex 2012.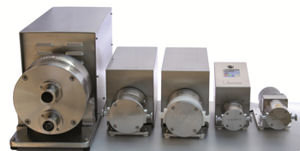 Quattroflow Family (Image: Almatec)
Quattroflow PD pumps incorporate a four piston-diaphragm technology with no mechanical seals that is driven by an eccentric shaft and motor. Available for multiple and single-use applications, Quattroflow PD pumps primaraly serve the pharmaceutical and biotech industries that require high containment, purity and cleanability, and are best known for transferring shear sensitive media of aqueous solutions and biological products without damage, ultimately ensuring product safety, efficiency and reliability. Quattroflow pumps feature wetted housing parts constructed with electro-polished 316L (Basel Standard II, ferrite content < 1%) stainless steel, while the valves are made of EPDM and the diaphragms of EPDM/PP compound. The Quattroflow product line consists of four sizes – QF150, QF1200, QF4400 and QF20K – with capacities of 2.6 to 333 lpm (0.7 to 88 gpm).
In addition, Almatec will also display its Biocor and E-Series diaphragm pumps at the show. Biocor pumps are ideal for applications with the highest purity, containment and cleanability requirements. Built to emulate and be placed in the same applications as diaphragm valves, the Biocor pumps are able to assure sterility and handle products containing protein solutions, cellular structures, and other shear-sensitive products. With no mechanical seals, rotors, or stators, the BIOCOR offers free passage for applications that require negative suction lift, self priming and dead head capability.
Almatec solid block PTFE E-Series pumps are specifically designed for not only permanent applications, but also for single-use applications handling critical and even hazardous biopharmaceutical substances. The E-Series pumps are designed for use in advanced applications where high chemical compatability and full containment/leak free design are required. Yet, the simplicity of design and operation makes the E-Series safe and economical for even single-use applications wihout compromising the highest standards.
The Interphex show, which brings together a wide variety of leaders from the pharmaceutical industry, will be held from May 1-3, 2012, in New York, NY, USA.