Almatec Featuring Biocor Series Pumps
Almatec, part of PSG, Almatec will introduce its Biocor Series pumps. These pumps have been specifically designed for critical sterile applications, and meet the strict standards, regulations and operational requirements that govern the food and beverage industry because they contain no horizontal areas.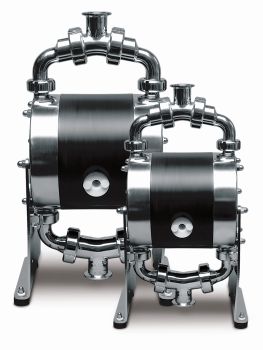 PSG
Available with a 316L polished stainless steel wetted path, Biocor pumps provide superior containment and utilize ball-lifting magnets that can be attached to the pump housing from the outside at the location of the four ball valves. With the use of magnets, the ball valves can be lifted from their seats, allowing the pump to be drained entirely without needing to be disassembled or removed from the application. This enables clean-in-place (CIP) and sanitize-in-place (SIP) capabilities.
Almatec Biocor Series pumps are also equipped with the patented PerSwing P air-control system. This air-control system ensures accurate reversal of the main piston and low noise levels. The suction and discharge ports are offered with a clamp sanitary connection for inlet/outlet and are available in a variety of sanitary threads. The diaphragms, ball valves and O-rings are made of PTFE or EPDM. Additionally, BIOCOR pumps have earned certifications for hygienic design and cleanability from the EHEDG organization, as well as material compliance as stipulated by the FDA and European directive EC1935/2004.
Biocor Series pumps are available in three sizes – B20, B32 and B40 – with maximum capacitates of 15 to 70 gpm (3.5 to 17 m3/h) at a maximum discharge pressure of 100 psi (7 bar).