Almatec Adds B40 Model to Biocor Series Pumps
Almatec, a premier manufacturer of sanitary air-operated double-diaphragm pumps, announced today it has expanded its line of Biocor Series Aseptic air-operated double-diaphragm Pumps with the addition of the new B40 Model.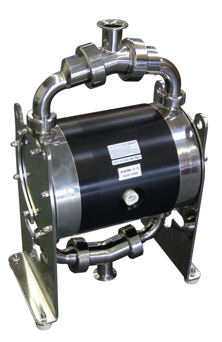 Biocor B40 (Image: Almatec)
Like all Biocor pumps, the B40 is ideal for use in sanitary product-handling applications found in the pharmaceutical, biotechnical and food industries.
The B40 is the third member of Almatec's Biocor family, joining the B20 and B32 models. It is the largest and heaviest Biocor pump at 67 kg (147 lbs.) and dimensions of 462 mm by 270 mm by 681 mm (18.2" x 10.6" x 26.8"). This added weight and size gives it the capability to handle solids as large as 9 mm (0.35") and deliver flow rates up to 17m3/h (75 gpm), all at operating pressures of 7 bar (100 psig) and maximum operating temperatures as high as 80ºC (176ºF).
The Biocor B40 model features no drives, no rotating parts, no shaft seals within the fluid and a step-less flow control that operates via air pressure and volume without the need for complex mechanical control units, which prevents overpressure while ensuring maximized output and efficiency. The material for the wetted housing parts is electro-polished 316L stainless steel with a center block of PE conductive, while the diaphragms, ball valves and O-rings are made of PTFE or EPDM. In addition, Biocor pumps meet the demands of all sterile applications by utilizing a unique design that has no horizontal areas where products can rest.
All of these features make the B40 pumps compatible with the certifications for hygienic design and cleanability from the EHEDG, FDA and Class VI regulating organizations. The design of the B40 also allows it to conform with the ATEX 94/9/EG directive for pump use in potentially explosive atmospheres.
Biocor Series pumps are also equipped with Almatec's patented PERSWING P air control system. This metal-free, pneumatically pilot-operated control system ensures accurate reversal of the main piston and is characterized by low noise level. It does not require maintenance, operates without any lubrication and has only two moving parts.