All-PVC Diaphragm Seals for Corrosive Environments
Blacoh's "Revolution" Diaphragm Seals protect and isolate all forms of system instrumentation from the hazards of corrosive process flow environments for at least three years, guaranteed.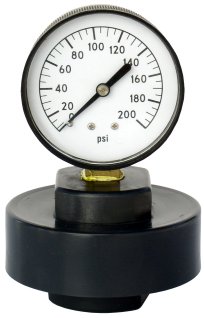 Sentinel Revolution300
Furthermore, the "Revolution" Diaphragm Seal also features two revolutionary designs that make it the ideal solution for corrosive environments. First, the "Revolution" features threaded housings that screw together instead of metal fasteners that are easily damaged in corrosive environments. Second, the "Revolution's" all -PVC construction provides complete chemical compatibility in nearly all process flow environments.
For more information simply send an e-mail to sales@blacoh.com.
Blacoh Fluid Control also offers a complete line of SENTRY® Pulsation Dampeners, Surge Suppressors, and Suction Stabilizers to eliminate pulsation and surge in municipal and industrial pumping applications. Blacoh's Spill-STOP® is a patented spill prevention device for air operated diaphragm pumps. Blacoh Sentinel Diaphragm Seals isolate gauges and other pressure instruments from contamination or corrosion from the process fluid.