All-Flo Pump Company Reaches Out with On-the-Go Service
All-Flo Pump Company, a global leader in diaphragm pump manufacturing, unveils its new mobile website to meet customer demand for quick access to the site's information on-the-go.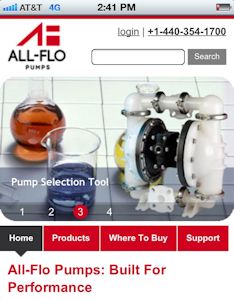 New All-Flo mobile website (Image: All-Flo)
Keeping in mind that distributors and pump purchasers are often in the field and away from the desk, All-Flo wanted to make it as easy as possible for customers to access vital information.
All-Flo also recently announced its new cross-reference tool, allowing its distributors to discover which All-Flo products can replace a customer's existing pumps from other manufactures. This tool was created after requests for such a resource and is like none other in the industry.
The new mobile site has a number of convenient features, most notably a chemical compatibility tool. The tool eliminates the need for printed chemical compatibility tables and allows mobile users to select the correct materials for the pump based on the fluid to be pumped. Upon entering pump size specifications and fluid type, the finder matches users with the best All-Flo pump for the application.
With the mobile site, customers can easily and quickly locate the closest All-Flo distributor using the 'find a distributor' functionality. By implementing the 'use my current location' tool, the mobile device's GPS will locate the customer and send the contact information for the closest All-Flo distributor. Additionally, the mobile site has a user-friendly product interface so on-the-go customers can access specifications, accessory options, spare parts and downloadable technical documents, such as maintenance manuals and performance curves.
The cross-reference tool allows distributors to enter a part number from another pump manufacturer and will offer results that return a list of compatible or near-compatible pumps available from All-Flo. The results are displayed in a "compatible-percentile" format and will list what components are exact matches and which are variations. Distributors can then determine which pump is most appropriate for their customer.
"We know that a growing sub-set of our customers are accessing information via technology," said Paul McGarry, All-Flo sales and marketing manager for North America. "The relationship with our customers and distributors is very important to us. We believe the new mobile website and cross-reference tool will bolster those relationships by making it easier for our customers to access the information they need, when they need it."