Aker Wirth Deliveres 300th Mud Pump TPK 2200
The 300th mud pump in the TPK 2200 series successfully completed its trial run on the 6 and 7 November 2012 after it was put through its paces in a rigorous 48 hour endurance test.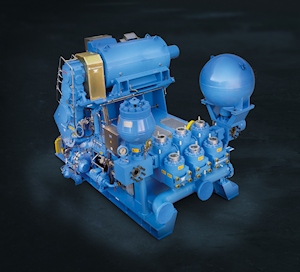 Mud Pump TPK 2200 (Source: Aker Wirth)
The pump is part of an order for Aker Solutions, the parent company of Aker Wirth. It will be shipped to Korea within January along with two others of the same type. The platform for BP's Clair Ridge project is being assembled there in a local shipyard.
AMEC was awarded by BP and the project partners with the Engineering & Procurement Contract of two platforms. These will be used from 2016 in the North Sea to explore Clair, a 220 km² oilfield which lies 75 km west of the Shetland Islands at depths of up to 150 m.
Products from Aker Wirth have already demonstrated their superior performance on numerous rigs in harsh environment conditions like the North Sea. The quality of the pumps persuaded AMEC to award the company a contract for three TPK 2200 mud pumps in May 2011. Jennifer Howell, BP PSCM Drilling Lead for the Clair Ridge Project explained: "Aker Solutions were awarded the contract for three TPK 2200 mud pumps due to their technical superior solution against Clair specifications. Weight and space saving options, were also considerations for the Aker Wirth TPK 2200 pump."
The TPK 2200 model is used in a widely diversified range of applications. The mud pumps are installed all over the world on drilling platforms, jack ups, semi-subs, drill ships and onshore drilling rigs which drill for oil and gas deposits.
The state-of-the-art gear-driven TPK 2200 high pressure mud pump has a power rating of 2200 PS and can pump up to 1640 liters of mud per minute at a maximum pressure of 7500 PSI. It operates at ambient temperatures from 0°C to +45°C. In addition, use of a single top mounted AC water jacket motor with direct water cooling has enabled the reduction of noise, with the level now lying below 85 dBA.
Customer analyses which document the availability of the systems during operation confirm the reliability and efficiency of Aker Wirth mud pumps, with availability rates of 99,9 % being achieved.